Like The Drip, Drip, Drip Of The Raindrops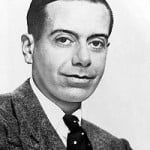 Cole Porter, who understood
witch hunts, would not be amused
by our president's disregard of
Americans' right to be secure from
unwarranted government invasion
of our personal lives.
'Puter loves him some American standards, like Night and Day, sung by Ella Fitzgerald, which includes the lyrics comprising this post's title. And dang, could Night and Day's composer and lyricist Cole Porter flat out write music.* The man was an absolute genius — a tortured genius to be certain — but a genius nonetheless. If you haven't seen De-Lovely, a biopic about Mr. Cole's life starring Kevin Kline as Mr. Cole, stop what you're doing and go watch it right now. After The Untouchables, it may be 'Puter's second favorite movie.
But you, dear reader, don't visit the Castle to hear about 'Puter's penchant for music and theater, you come for the politics and snark. So, back to the drips.
It's been a difficult month or so for President Obama, as scandals great and small have piled up at his feet. First came the Obama/Clinton State Department lies about Benghazi, not coincidentally mere weeks before the 2012 election. Drip. Next came the Obama/Holder Department of Justice Espionage Act wiretap madness against Fox News' Rosen. Drip. Things started to get bad when Holder's Department of Justice tried pull the Rosen stunt on numerous reporters at AP. Drip. Then, Obama's IRS admitted to using its powers to target conservative groups and Obama Administration critics. Drip. Last but not least, we learned last week that Obama himself signed directives permitting the National Security Agency (and likely others in the intelligence community) to grab metadata from telecommunications and internet service provider on all Americans, not just those our government could show were up to no good. Drip.
Any of these scandals, standing in isolation, would be insufficient to damage the Obama Administration. Benghazi's played as a talking points drafting error, later corrected. The Rosen and AP scandals are simply the government trying to plug leaks, as all good governments should. The IRS scandal involved the actions of low level employees, not the policy of higher ups. The NSA collects all Americans' metadata to protect all Americans from disastrous attack. Each scandal has a perfectly plausible, non-malevolent explanation.
But, unfortunately for the Obama Administration, taken together, each scandal's drip helped create a raging ocean, battering his foundering administration from all sides.
Regardless of the legality of Obama's actions in each scandal, the scandals caused an otherwise inattentive American public to take notice of our government, and Americans don't like what they're seeing. Obama's scandals detail a pattern of behavior by his administration, a pattern that leads inevitably to an unsettling truth: our government routinely grabs any and all electronically transmitted personal information it thinks it may need without any apparent oversight, and on most occasions without a warrant.
One drop does not a rainstorm make. But as Obama's finding out, enough raindrops can create a raging river capable of swamping a ship, even a ship of state.
*For those interested, find and listen to a recording of Mr. Porter's So In Love, written as part of his Broadway musical Kiss Me Kate. 'Puter loves this song to pieces.

Always right, unless he isn't, the infallible Ghettoputer F. X. Gormogons claims to be an in-law of the Volgi, although no one really believes this.
'Puter carefully follows economic and financial trends, legal affairs, and serves as the Gormogons' financial and legal advisor. He successfully defended us against a lawsuit from a liquor distributor worth hundreds of thousands of dollars in unpaid deliveries of bootleg shandies.
The Geep has an IQ so high it is untestable and attempts to measure it have resulted in dangerously unstable results as well as injuries to researchers. Coincidentally, he publishes intelligence tests as a side gig.
His sarcasm is so highly developed it borders on the psychic, and he is often able to insult a person even before meeting them. 'Puter enjoys hunting small game with 000 slugs and punt guns, correcting homilies in real time at Mass, and undermining unions. 'Puter likes to wear a hockey mask and carry an axe into public campgrounds, where he bursts into people's tents and screams. As you might expect, he has been shot several times but remains completely undeterred.
He assures us that his obsessive fawning over news stories involving women teachers sleeping with young students is not Freudian in any way, although he admits something similar once happened to him. Uniquely, 'Puter is unable to speak, read, or write Russian, but he is able to sing it fluently.
Geep joined the order in the mid-1980s. He arrived at the Castle door with dozens of steamer trunks and an inarticulate hissing creature of astonishingly low intelligence he calls "Sleestak." Ghettoputer appears to make his wishes known to Sleestak, although no one is sure whether this is the result of complex sign language, expert body posture reading, or simply beating Sleestak with a rubber mallet.
'Puter suggests the Czar suck it.