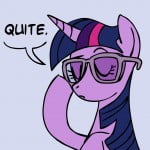 MLP – Nerdy or Geeky?
At the beginning of the month, GorT in true GorTastic style wrote a terrific post on geeks and nerds using the six of us as foils to make his point.
Indeed he pretty much had us pegged. And by pegged Dr. J. means he tractor beamed us to his time machine. Dr. J. is still trying to get the wrinkles out of his imperial robes…
Dr. J. appreciates the definitions and examples, but a practitioner of evidence based medicine, albeit with personalized tailoring as is appropriate for the individual patient, he likes to see the data, and he likes it presented with panache.
Our friends at Geeksaresexy.com posted this today:
The graph was created by Burr Settles and his methodology can be found here:
Basically, he queried the twitter Streaming API and the Search API, the former representing a random sample of tweets and the latter being a direct search for 'geek' and 'nerd' specific tweets for the month of December 2012.
He then did a test for pointwise mutual information between tweet words 'geek' and again words in the tweets and 'nerd.' He then plotted them x,y on a graph with x being neediness and y being geekyness. Our archivist, Marie @MbernadetteE uses this technique in our 6 dimensional archival warehouse, filing everything by degree of Volginess, GorTness, 'Puterness, Czariness, Mandarinity*, and J'ness.
So what did Dr. Settles learn from this, well in his own words:
Collections are geeky. All derivatives of the word "collect" ("collection," "collectables", etc.) are orange. As are "boxset" and "#original," which imply a taste for completeness and authenticity.
Academic fields are nerdy: "math", "#history," "physics," "biology," "neuroscience," "biochemistry," etc. Other academic words ("thesis", "#studymode") and institutions ("harvard", "oxford") are also blue.
The science & technology words differ. General terms ("#computers," "#bigdata") are on the diagonal — similarly geeky and nerdy. As you splay up toward more geeky, though, you see products, startups, brands, and more cultish technologies ("#apple", "#linux"). As you splay down toward more nerdy you see more methodologies ("calculus").
#Hashtags are geeky. OK, sure, hashtags are all over the place. But they do tend toward the upper-left. And since hashtags are "#trendy," I take it to mean that geeks are into trends. (I take this one back. The average PMI score for all hashtags is 0.74 with "geek" but 0.73 with "nerd." The difference isn't statistically significant using a paired t-test or Wilcoxon test, or practically significant using a common-sense test.)
Hobbies: compare the more geeky pastimes ("#toys," "#manga") with the more nerdy ones ("chess," "sudoku").
Brains: the word "intelligence" may be geeky, but "education," "intellectual," and "#smartypants" are nerdy.
Reading: "#books" are nerdy, but "ebooks" and "ibooks" are geeky.
Pop culture vs. high culture: "#shiny" and "#trendy" are super-geeky, but (curiously) "cellist" is the nerdiest…
For Dr. J., the take home is simple. Boobies are for everyone, everybody dislikes chores equally and given his love of Doctor Who, Star Wars and with his retired gamer status, he's a geek and nerd to a disturbingly extreme degree.
It is also a testament to how much information about us is out there in the public domain that the NSA could use to profile and keep tabs on us quite readily without invading our privacy.
* Yes, Mandarinity, not Mandariness.