Gun Review: Bushmaster XM-15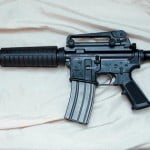 The Czar and the Mandarin went off shooting on Friday, and put rather a lot of rounds down different types of weapons. However, the Czar noted that he has never, somehow, done a review of a rifle. Not sure how that happened, exactly, but today we will talk about the Bushmaster XM-15 rifle in .223 caliber.
The Bushmaster XM-15, an AR-15-style rifle.
A couple of things. Bushmaster makes a lot of stuff, and many of their XM-15 weapons are technically carbines, not rifles. But this was a rifle version, and had a flat-top (not the carrying handle shown in the picture here). It also had the same type of sliding buttstock.
The second point is kind of the bigger deal. Why review an AR-15 rifle at all? For the most part, they are almost exactly the same and you could, indeed, build an expensive one out of replacement parts—from scratch, where there was no rifle before. As a result, the Bushmaster has the same trigger, grip, buttons, switches, doodads, and geegaws that any other properly made AR-15 has.
This is basically the problem: the Bushmaster AR-15s are so good that they are no different than any other well-made AR-15. So while the Czar can safely say he loves shooting this rifle, the truth is that he loves shooting AR-15s. So, too, does the Mandarin because he shot thirty rounds into a perfect three-inch-by-three-inch pattern creating a perfect square at 75 yards. That's how good a rifle this is: it is no different than drawing circles on paper in front of you.
Now, is that the Bushmaster, or the design of the AR-15 overall? Frankly, it is a bit of both. Yes, the AR-15 is the result of a genius, and while a lot of rifle shooters make fun of the AR-15 as being a gimmick or a toy, you can bet they never fired a well-made one. It is a weapon that has seen more military action than any other U.S. rifle, is fantastic for home defense because it is so easy to shoot accurately and quickly, and is ideal for hunting because (a) you can change the caliber to handle bigger game without throwing off the performance and (b) it is easily customizable.
Sure, lots of folks rave about Kalashnikovs, and the Czar gets that: he loves AK rifles as well. But while an AK is reliable and sturdy, and scary accurate on its first shot, the AR series is reliable and sturdy and remains accurate on the second, third, and even thirtieth shot. The more time you spend with either rifle type, the more you begin to see the awesomeness that is an AR.
And let us point out to our new-to-gun readers that the AR-15 is not a rifle: it is a platform. You truly can purchase an AR-15, change the barrel, change the trigger, change the sights, change the caliber, change the way the bolt works, change the grips, change the stock, and pretty much every part to some other kind of part. If there is something you do not like about the AR-15, you can quickly change it until you do. As a result—and this is true of the AK as well in ost cases—it is tough to call an AR-15 a rifle. It can be anything you change it into. What's the common piece that makes all these variants ARs? Actually, no one knows. But just by looking at any of the 10 million combinations, you can still tell it is an AR-15.
Back to the Bushmaster. Yes, it works as you expect. The weapon has an adjustable stock that should make it work for anyone between 4′-6″ and 7′-6″ tall. The weapon is lightweight and easy to hold. The iron sights are easy to use, and within seconds a novice can enjoy great accuracy. That's no claim—we have introduced a relatively new shooter to it on Friday, and he was spooky accurate. The recoil is solid for a .223, but that is the trade off with the lighter weight. Beyond that, this is a great weapon. What more can be said?
Indeed, one more thing can be said. Bushmaster has taken a lot of criticism in the shooting world because it was purchased by the Cerberus Capital Management group—an enterprise headed up by the thoroughly unpleasant George Soros. Actually, Cerberus bought Bushmaster's parent company. However, after a Bushmaster was allegedly used in the Sandy Hook shootings, Cerberus has announced is is selling the parent company of Bushmaster, which also includes Remington, Advanced Armament, Para, Marlin, and other weapons manufacturers. In other words, you can safely use Bushmaster without supporting the ironically anti-freedom George Soros.
Bottom line: if someone offers you a brand new, in-box Bushmaster XM-15 in .223, you say yes. Highly recommended. Excellent for experienced shooters needing a dependable AR-15, and a perfect choice to introduce new shooters to rifles.

Божію Поспѣшествующею Милостію Мы, Дима Грозный Императоръ и Самодержецъ Всероссiйскiй, цѣсарь Московскiй. The Czar was born in the steppes of Russia in 1267, and was cheated out of total control of all Russia upon the death of Boris Mikhailovich, who replaced Alexander Yaroslav Nevsky in 1263. However, in 1283, our Czar was passed over due to a clerical error and the rule of all Russia went to his second cousin Daniil (Даниил Александрович), whom Czar still resents. As a half-hearted apology, the Czar was awarded control over Muscovy, inconveniently located 5,000 miles away just outside Chicago. He now spends his time seething about this and writing about other stuff that bothers him.