Getting to Know the Czar, Day 2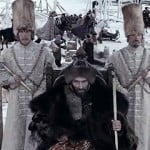 Welcome back.
The Czar has, we hope, convinced you that he is a nice enough and ordinary guy like yourself. Or girl. No, the Czar is not a nice and ordinary girl. This introduction is a total failure.
All right: the Czar is nice and ordinary, just like you.
Much better. And because we are ordinary, we should add that we probably have much in common. The Czar likes music: he is fond of reggae and classic rock, enjoys the music of the 1950s and 1980s, but has a pretty comprehensive knowledge of popular music dating back to the 1860s. For one thing, he is a fan of Stephen Foster. No, not the cheap and schmaltzy Stephen Foster but the cool and deep Stephen Foster who, even though they were the same guy, wrote some jaw-dropping songs that still work without modification.
And something that somehow caught the all-knowing Volgi entirely by surprise is that the Czar is a pretty skilled keyboard player. And yes, we have played a real harpsichord.
The Czar is a lover of good bourbons and especially enjoys good really good Irish whiskey, especially if it is in a rock glass over a fistful of ice. Surprisingly, he is not the biggest fan of desserts and in a decent restaurant is more likely to partake in a decent port and plate of cheeses after dinner.
The Czar is allergic to fruit, and can only eat pasteurized fruits like applesauce and peach pie as well as citrus fruits. The Czar has a particular aversion to coconut, and cannot even abide by its smell.
Most of you know the Czar is passionate about grilling and barbecue, and can make a knock-down pulled pork shoulder on either a gas grille or over a smoker. No problem either way. His personal favorite items to grille are exotic ones such as shark, Thai beef salads, or jerk chicken. He has successfully grilled apples, peaches, pineapples, and yes: even peas. Grilled peas are like soft peanuts, and taste divine.

Божію Поспѣшествующею Милостію Мы, Дима Грозный Императоръ и Самодержецъ Всероссiйскiй, цѣсарь Московскiй. The Czar was born in the steppes of Russia in 1267, and was cheated out of total control of all Russia upon the death of Boris Mikhailovich, who replaced Alexander Yaroslav Nevsky in 1263. However, in 1283, our Czar was passed over due to a clerical error and the rule of all Russia went to his second cousin Daniil (Даниил Александрович), whom Czar still resents. As a half-hearted apology, the Czar was awarded control over Muscovy, inconveniently located 5,000 miles away just outside Chicago. He now spends his time seething about this and writing about other stuff that bothers him.