Father's Day with your Gormogons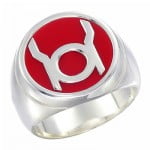 Happy Fathers Day to all of our readers who are fathers or who have fathers! Let's take a look around Castle Gormogon to see what the Fathers Day Fairy brought your Gormogon Overlords, Fathers to All, muah ha ha ha ha.
The outRAGEous Czar received a Red Lantern Corps T-Shirt and Power Ring. He has the axe construct down and has been chasing Dat Ho around the courtyard taking random swings.
Confucius, the Œcumenical Volgi, (the Notorious ŒV) received a Cthulhu coffee mug with a Ann Repp Book Binding gift card inside (presumably to respine an old tome, or to bind his latest work on ancient Turkish magick).
Puter, our resplendent chef received a Hello Kitty slow cooker. Given how busy he gets at work, we're sure the fairy figured that sometimes he could use the timesaving device.
The Inscrutable Mandarin, ever the fashion maven, received, you guessed it, the official gift of Fathers's Day, a tie. But this tie has rifles on it.
What do you get for the titanium robot who has everything? Well,
GorT
doesn't have everything. He's had his eye on this 3D printer. Unfortunately it only speaks the
binary language of moisture evaporators
(BLoME). GorT may have to go the Manhole on droid-night, as there's
one droid
Dr. J. knows whose first job was programing binary load lifters, a programing language a lot like BLoME, and he frequents that watering hole.
Last but not least, Dr. J. Dr. J. suspects that the Lil Resident and Medstudent had something to do with the fairy's gift selections:
…he think's its time that Dr. J. deal with the burgeoning adolescent.
The Lil Resident, of course, would pick something out that she'd use more than Dr. J.
Happy Fathers Day!