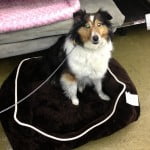 By now, you all know about little Sally, our sad little dog who is scared of many things.
Sally, just the cutest little Shetland Sheepdog
We are big proponents of animal rescue. Not just because it saves the lives of precious animals who want nothing more than a family to love them, but because you usually get a really good animal for significantly less money. Seriously: you could spend thousands for a breed of dog, or you could rescue one for a couple hundred bucks, get the breed you want, and the dog is already house-trained and knows basic commands. Plus, the psycho dogs and the ones that bite kids or attack cats are all weeded out.
Sally is a rescue, and her story is terrible. She was rescued by police in a small town somewhere in Illinois. She was kept in a small outdoor pen—her molars are cracked from trying to bite through the fence—along with her sister. The two were being force-bred to produce puppies for sale. When neighbors saw the yard flooding dangerously high, they called the police. By the time the police had arrived, Sally and her sister had climbed atop two trash cans to avoid the deep water. Tragically, Sally managed to save only one of her puppies and was forced to watch the rest drown because she could not get them all onto the trash barrels in time.
To this day, Sally shakes terribly whenever it rains and immediately looks for the two boys to make sure they are all right. Once she knows where they are, she quickly vaults onto the nearest couch, chair, or bed to escape the flood water she fears could come back.
Kept in a pen her entire life, she has no idea how to play. She certainly cannot catch a ball, has no clue about chasing frisbees, and has no interest in tug toys. But worse, when other dogs try to get her to play dog games—chase, tag, and other fun canine activities—she stares blankly at them. It was not until last summer we saw her wag her tail for the first time upon seeing another dog she recognized from the park.
But the Czar's baby girl sticks close to him, and she loves the Царица and will seek her out when needing cuddle time. And she sometimes, for whatever reason, finds one of the boys and will sit with him for a while. But most of the time she hides in and behind furniture, terrified that the mean people will come back.
Her coat is long and extremely soft. When we first heard about her, she was matted, filthy, badly sunburned, and her coat infested with fleas. She was treated for heartworm successfully. Today, although her injuries are now all inside her soul, she enjoys long naps, curling up on a warm couch, and smiling for photos. She is especially fond of food, and as you might imagine, has enjoyed all sorts of grilled meats. When the Царица makes a turkey, Sally will emerge from her hidey-hole and sit next to the stove, sniffing the air demandingly.
And so when the Цесаревич wrote an essay early last year for a local paper about why he loves her so much, he spared no feelings and described the horrors she endured for two years before we rescued her. He concluded by describing how much he admired her courage to turn that fear into love, and naturally his essay won the grand prize: she was selected to be the Grand Marshal in a parade in her honor. The Цесаревич was given a tophat from the Muscovy council, and he accepted the key to the village on her behalf. Standing at the front of the parade, he beamed with pride as they made speeches about her and the benefits of rescuing animals. Cub scouts, American flags, marching bands, and hundreds of other dogs were lined up behind her as they marched through the village. She had no idea it was all about her, but she was excited just to walk next to him.

Божію Поспѣшествующею Милостію Мы, Дима Грозный Императоръ и Самодержецъ Всероссiйскiй, цѣсарь Московскiй. The Czar was born in the steppes of Russia in 1267, and was cheated out of total control of all Russia upon the death of Boris Mikhailovich, who replaced Alexander Yaroslav Nevsky in 1263. However, in 1283, our Czar was passed over due to a clerical error and the rule of all Russia went to his second cousin Daniil (Даниил Александрович), whom Czar still resents. As a half-hearted apology, the Czar was awarded control over Muscovy, inconveniently located 5,000 miles away just outside Chicago. He now spends his time seething about this and writing about other stuff that bothers him.