De Rerum Natura Czar, Day 4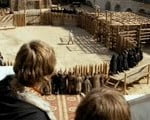 Today we will spend a little time with the Czar's 10-year-old.
Serf's up! Here we are waiting for the borzois to come out while our neighbors watch.
As the elder of the two boys, he receives the special title Цесаревич. No doubt he will one day take over writing on this website if the Czar ever retires or in the more likely event the boy finds a way to kill the old man. It will probably be in a drunken rage. The Czar's, that is, not the boy's.
Well, as the Czar reminds him frequently, he better kill us on the first shot, because there won't be a second.
The boy is a straight-A student at Muscovy Elementary, and has an established network of popular friends that ensures (a) he will not be a bullying victim while (b) moving along that path himself. He is devourer of Marvel comics movies—and has a precociously skillful ability to deconstruct them and analyze key scenes for symbolic content—as well as exotic meats. Not many 10 year olds eat more than hot dogs, but he has eaten and enjoyed kangaroo, elk, venison, shark, eel, alligator, rattlesnake, and mountain goat. He has eaten everything from Vietnamese to Spanish to Cuban to Native American food. You definitely want him with you at a restaurant, if only for the entertainment value of watching him eat.
As a sports enthusiast, he has the weird ability to memorize stats and facts for a crazy variety of professional teams, including even minor league teams. He has played baseball successfully and dearly loves the game but dislikes Muscovy little league politics. As far as football goes, the kid can—totally unlike his wuss-armed father—throw a perfect spiral across a long distance. And yes, he is a pretty decent shot with a pistol; he has not yet handled a real rifle or shotgun, but is okay with an air rifle. As his arms get longer, we expect his ability to increase. The point is, he can load and fire a pistol with enough accuracy to make him a go-to kid for home defense.
He enjoys well-written television programs, and likes old-timey monster movies. He limits himself to no more than an hour of XBox a day—purely his own volition. We never really set a limit for him except on a case-by-case basis, as sometimes he will spend half the day doing that. Halo is probably his favorite franchise, but he will go along with whatever anyone else wants to play as well.
His favorite subject is math, and he is especially good at processing numbers quickly. He is an avid reader and is something of an old soul by volunteering to read 22,000 Leagues Under the Sea and Treasure Island simply because he wanted to.
And yes: he is that kid you could spend three hours talking to, and suddenly realize he's a ten-year-old. Also, he hates hippies.

Божію Поспѣшествующею Милостію Мы, Дима Грозный Императоръ и Самодержецъ Всероссiйскiй, цѣсарь Московскiй. The Czar was born in the steppes of Russia in 1267, and was cheated out of total control of all Russia upon the death of Boris Mikhailovich, who replaced Alexander Yaroslav Nevsky in 1263. However, in 1283, our Czar was passed over due to a clerical error and the rule of all Russia went to his second cousin Daniil (Даниил Александрович), whom Czar still resents. As a half-hearted apology, the Czar was awarded control over Muscovy, inconveniently located 5,000 miles away just outside Chicago. He now spends his time seething about this and writing about other stuff that bothers him.