Bait and Switch – Obama Style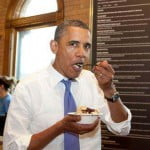 'Your love is better than ice cream…' Sarah McLachlan
President Obama spake* today regarding the SCOTUS with the MOSTUS:
On an issue as sensitive as this, knowing that Americans hold a wide range of views based on deeply held beliefs, maintaining our nation's commitment to religious freedom is also vital. How religious institutions define and consecrate marriage has always been up to those institutions. Nothing about this decision – which applies only to civil marriages – changes that.
Dr. J.'s concerns are two-fold:
First, he doesn't believe a darned word that the president says regarding religious freedom. All one has to do is wait for the first aggrieved party to sue a church, or wait for the other shoe to drop regarding tax exempt status; then look to the president's reaction.
Second, this says nothing about the affect of civil same-sex marriages on church business as to whether or not benefits need to be extended to the same-sex spouses of employees, and the reaction from the Justice Department should they not be extended for reasons of conscience. Similarly, what about Hobby Lobby?
We shall see where this goes…
* If you wonder about Dr. J.'s choice of the word spake for this, it comes from Andy Kaufman's brilliant portrayal of televangelist Armageddon T. Thunderbird in In God We Tru$t.