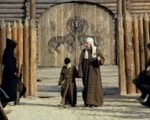 Today, we get to know the Царевич, our 8-year-old who celebrated his birthday two days ago.
The Czar and the Boy catch up with the Okhrana's latest and woefully inept gossip. These are the stoops who told us Romney would win by a landslide.
The Царевич is a ridiculously happy 8-year-old, who loves science more than anything else. While some kids are drawing pictures of doggies and horsies and kitties, he is sketching detailed assembly directions for a multiple tenant dwelling unit. Yeah, he's one of those engineering types.
He might be 8, but he is masterful at building and tending fires. To the surprise of many, when he was only 6, he found a warm coal in our dacha firepit from the day before. It was cool enough to hold in his hand and even squeeze it but he was able to detect it was slightly warmer than ambient temperature. Cracking the coal open, he saw a curl of smoke. He quickly piled some dry leaves and twigs around it and blew furiously across its surface. A tiny orange dot of light became a flickering constellation of yellow dots on the coal. Moments later—thank goodness we took photos of it—the tinder ignited in flame. He quickly placed kindling and fuel logs around this and in under two minutes we had a roaring fire.
Additionally, let him cook you breakfast. He can scramble eggs from scratch, and provided you hand him a box of turkey sausages, microwave those up and serve you on a plate. He quite frequently wakes up in the 6:00 hour, and half-a-day later when the Czar stumbles down the stairs, eggs and sausages are ready and waiting. He is also doggedly watching the Czar grill foods and we are happily sharing our secret techniques for perfectly cooked meat. He even knows how to safely light the grille and pre-heat it.
Much of his time is devoted between baseball and Minecraft. But on a relaxed evening, after a meal of Italian sausage and root beer, he will ask science questions and sit back and absorb your answers, dutifully recording everything you say.
He is quite popular among the ladies, and have never fewer than three competing for his attention. His advice to us males on handling this? "Hang out with the one that gives you the nicest gifts." Slick. His buddies are all spitting images of him, and from a distance it can be hard to pick him out from them—they look and act similarly, which can be quite delightful when they aren't acting like 8-year-old morons all running and crashing into each other.
This is a kid who, if we would let him, would build himself a shelter and sleep outdoors in any weather. He is developing a love for archery, and the Czar is well aware that this kid's ability to shoot a bow, live in the woods, and cook his own meals makes him a candidate for a serious hunter when he is older.

Божію Поспѣшествующею Милостію Мы, Дима Грозный Императоръ и Самодержецъ Всероссiйскiй, цѣсарь Московскiй. The Czar was born in the steppes of Russia in 1267, and was cheated out of total control of all Russia upon the death of Boris Mikhailovich, who replaced Alexander Yaroslav Nevsky in 1263. However, in 1283, our Czar was passed over due to a clerical error and the rule of all Russia went to his second cousin Daniil (Даниил Александрович), whom Czar still resents. As a half-hearted apology, the Czar was awarded control over Muscovy, inconveniently located 5,000 miles away just outside Chicago. He now spends his time seething about this and writing about other stuff that bothers him.