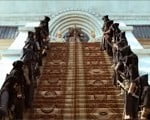 A scene from last year's birthday celebration. Your own birthday was probably something similar.
Today is the Czar's birthday.
He expects nor requires any well wishes from you types, as he is well aware how difficult it is to find something nice but not too expensive for a 746-year-old psychopath. The family is taking him out of the dacha and we will be having some sort of —nesian food tonight. Polynesian? Indonesian? Amnesian? It is unclear, but we were assured we can drink heavily tonight and so we shall.
The Czar remembers as far back as he can to his sixth birthday. His mother transformed the wooden barn into a party hall, with multicolored paper hanging from the rafters, a large table filled with food, and plenty of rope for games. She surprised us by inviting Maksim Polodovich, Sergei Kerenskii, Zagroslav Milodorov, Evgenii Arkhasimovich, Nikolai Karamosinov, and Yuri Polotnikov, all boys our age, to participate. This was a surprise because the Czar did not know those boys very well, but we raced into the barn to partake of the food and games until it was time for her to bar the doors shut and set fire to the barn.
After escaping this obvious trap, the Czar will always remember how excited he was as well as all the terrified screaming. We even had paper Fez hats to wear.

Божію Поспѣшествующею Милостію Мы, Дима Грозный Императоръ и Самодержецъ Всероссiйскiй, цѣсарь Московскiй. The Czar was born in the steppes of Russia in 1267, and was cheated out of total control of all Russia upon the death of Boris Mikhailovich, who replaced Alexander Yaroslav Nevsky in 1263. However, in 1283, our Czar was passed over due to a clerical error and the rule of all Russia went to his second cousin Daniil (Даниил Александрович), whom Czar still resents. As a half-hearted apology, the Czar was awarded control over Muscovy, inconveniently located 5,000 miles away just outside Chicago. He now spends his time seething about this and writing about other stuff that bothers him.