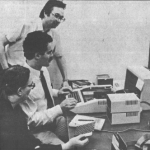 Bore Patch (yes, the very one!) carved the following into a stick of wood and jammed it through the spokes in Dat Ho's messenger bicycle. While the latter was riding it of course.
Dang, you nailed me in the Post-Boomers section. I guess that an Autocrat needs to know how people tick.

I'll fix French 75s the next time I'm out at the Castle. Might actually slow Gettoputer down a bit …
Well, thanks and nothing personal: the Czar has nailed a lot of people. Literally, in most cases. To all sorts of things.
But there are millions of people fifty and up who hate being termed Boomers, and share almost nothing in common with Boomers other than an inconvenient birthdate. After observing so many of them years ago, the Czar first hit upon his idea of the sub-generations. In most generations there is a large subcategory—too large to be a fringe counter-culture movement—that defies the stereotypical or conventional behaviors of the large population. In all respects, they are their own culture—like when you first realize that Catalan is a real language no one ever told you about.
Typical liberal hippie nerds? Not close: post-Boomers working on stuff that would prove extremely useful to Gen Xers and Millennials much later on.
Probably the greatest example of this is the Post-Boomer Generation. In all respects, you should be Boomers except you aren't. And you aren't close. The Czar bumps into you guys everywhere: libertarian, economically well informed, marijuana free, with a strong memory of the Cold War but a love for baseball, automotives or motorcycles, Sunday family dinners, and rational conversation. Few if any of you own artisan cheese shops in Oregon.
And because you reached your sense of political awareness right during Wategate, you tend to be distrustful of Republicans although you loathe Democrats due to their close association with the Boomers and all their perpetually spoiled adolescence. Older generations stick with their traditional parties come hell or high water thanks to a lot of denial; Gen Xers tend to vote Republican thanks to memories of Reagan, and Millennials old enough to vote tend to vote Democrat because television told them to (although this too is clearly changing). But Post-Boomers tend to vote Republican but do so covering their nose and mouth from the stench.
The Post-Boomers are so ignored that they don't even have a name and have to live with the Czar's issued Post-Boomers epithet. Since the first thing that happens after a boom is a reflected echo back toward the source of the explosion, maybe you could call yourselves the Slap Back Generation.
The point is, you are well understood. And like the Eisenhowers before you, the Post-Boomers have given the Gen Xers and Millennials of today good reasons to be thankful. The Boomers continue to ruin everything they touch (even their own music, if you look at the Boomer-ordered remakes of classic songs).
What should be of greater interest to everyone is how consistent the Post-Boomers have been through their history. Whereas it actually took most of Gen X a long time to wake up to political reality, and the Millennials are only just now starting to wake up to it, the Post-Boomers have been pretty astute all the way back to the 1970s. That's quite a feat.
Curiously, the Internet is the biggest weapon the Gen Xers have, and they have put it to good use by exposing the real news stories. And Millennials have embraced social connectivity as a way to spread information in numerous, useful directions. But this telecommunications triumph came around thanks to the efforts of the Post-Boomers who built the infrastructure for it in the mid-to-late 1980s. Imagine what will happen next.

Божію Поспѣшествующею Милостію Мы, Дима Грозный Императоръ и Самодержецъ Всероссiйскiй, цѣсарь Московскiй. The Czar was born in the steppes of Russia in 1267, and was cheated out of total control of all Russia upon the death of Boris Mikhailovich, who replaced Alexander Yaroslav Nevsky in 1263. However, in 1283, our Czar was passed over due to a clerical error and the rule of all Russia went to his second cousin Daniil (Даниил Александрович), whom Czar still resents. As a half-hearted apology, the Czar was awarded control over Muscovy, inconveniently located 5,000 miles away just outside Chicago. He now spends his time seething about this and writing about other stuff that bothers him.