The Difference, At This Point, Benghazi Makes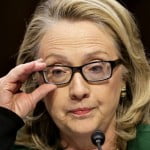 The following quote is pretty much the consensus of anybody who knows anything about the Benghazi scandal:
We are witnessing the beginning of the end of the Obama administration, and the cause is Benghazi.
One cannot underestimate the severity of Mr. Walsh's comment: Benghazi has the potential to be as severe as Watergate, and is already more offensive than anything Monica Lewinsky was willing to do.
It's a question of optics, all right. Guess who will be Obama's fall guy over Benghazi? The curious truth is that you were playing with fire and got badly burned. Buh-bye.
The Left is so panicked about the evidence coming forward that one can already see the strategies being sketched out.
The "I wasn't there" defense being employed by Secretary of State John Kerry, when he said "Let's figure out what it is that's missing, if it's legitimate or if it isn't. I don't think anybody lied to anybody. And let's find out exactly, together, what happened, because we need—we got a lot more important things to move on to and get done."
Following from that, the "It's not a big deal" defense employed by White House hand puppet Jay Carney: "Let's be clear: Benghazi happened a long time ago."
The "Nothing to see here" defense as theatrically delivered by former SoS Clinton: "What difference, at this point, does it make?" which is of course a variation of the " At this point, what difference does it make?" defense.
The "I'm not aware" feigned cluelessness now being used by anybody and everybody connected to the President. Both the President and Jay Carney uncannily echoed each other by claiming to be unaware of anybody who was being silenced or prevented from telling the truth. This is of course lawyerish babble: they are perfectly aware that there are such individuals, but they are personally unaware of who they are. See? Both true and not, all at the same time. This depends on your definition of is.
Speaking of Clintonian techniques that didn't work, the common theme to all these is that Benghazi is not a very big deal. Basically, you could some up all four defensive crouches like this: Benghazi happened a long time ago, and people we don't know and with whom we're not affiliated are making all sorts of claims—so what?
The problem—and this explains the real PR panic you are seeing—is that all of these defenses are weak and demonstrably unworkable. Polls show that Americans are aware that a screw-up happened in Benghazi, four Americans were killed, and the Obama administration has been unable to provide any answers. Parents know when their kids are concealing a lie, and hundreds of millions of Americans see the nervous glances and stalling from this administration.
The evidence is starting to link up pretty well, and what it shows is that a thoroughly preventable tragedy occurred because the President was trying to score points during a tough election. And what happened afterward was a battery of lies and malicious deception. Basically, the Obama campaign called the shots, and had no plan of what to do when it got out of control. Murdering an ambassador on his or her own soil is an act of war, legally, but that wasn't what was expected to occur: the Obama campaign wanted a foreign policy crisis that he could easily deal with. It explains the fund raising flight to Vegas the next day, the emphasis on demonstrations and YouTube videos, and so on. All according to the script. Until it became clear that it turned into a real crisis and people were brutally killed by real al-Qâ'ida terrorists.
So what happens next? Starting tomorrow, a formal hearing is being convened by the House Oversight Committee. And the strategy each person chose will determine the likely outcomes.
John Kerry will bounce out of this unharmed—wasn't his call, wasn't his watch, and while he respects the many great accomplishments by former Secretary Clinton, he of course would do—will do, and would have done—things very differently.
The President, taking the tack that he's always oblivious to everything his people do, will point to Hillary Clinton and say this was all her call. You might remember, he will remind everyone, that she took full responsibility a few days after the lies were exposed. Not the President. And that's right and proper, because the boss should take responsibility for the problems caused by her employees. The President has nothing to do with this; she merely worked for him. In the end, the President will be tarnished but not damaged—like Reagan in the Iran-Contra affair (although the level of Obama's probable involvement and complicity was quite different than Reagan's).
Clinton is in a terrible spot. She tried to downplay the significance of this, and it did not work. Her former boss will position her for rotasubteriation, as he did with Ambassador Rice. This will damage her 2016 chances badly.
Conversely, she could dish out everything she knows about the insipid and half-wit Obama administration, but of course their defense will be powerful and timed to eliminate her in a 2016 primary. If she lies, she's finished. If she tells the truth, she's finished.
Prediction: she will lie and be exposed as such. As the scorpion stings because it is its nature, so too will Hillary Clinton default to her nature and lie, lie, lie throughout everything. And it will be obvious.
Do not expect the media to help her: exposing the truth cuts deep wounds in Barack Obama, which shall not occur per their blood oath to him. Rather, they will emphasize how Benghazi was her screw up.
In all probability—because one can never be sure with a high-ranking Democrat—Hillary Clinton will not be successful in 2016 (although another Democrat likely will be).
And the justice of this is that a Clintonian scandal of Clintonian proportions, perpetrated by and for Clintonian politics, will be her downfall. Sometimes the smartest ones are so clever that their actions are indistinguishable from very stupid people.

Божію Поспѣшествующею Милостію Мы, Дима Грозный Императоръ и Самодержецъ Всероссiйскiй, цѣсарь Московскiй. The Czar was born in the steppes of Russia in 1267, and was cheated out of total control of all Russia upon the death of Boris Mikhailovich, who replaced Alexander Yaroslav Nevsky in 1263. However, in 1283, our Czar was passed over due to a clerical error and the rule of all Russia went to his second cousin Daniil (Даниил Александрович), whom Czar still resents. As a half-hearted apology, the Czar was awarded control over Muscovy, inconveniently located 5,000 miles away just outside Chicago. He now spends his time seething about this and writing about other stuff that bothers him.