Pride Goeth Before the Fall; Ethics a Bit Sooner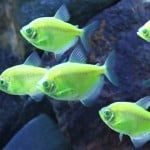 The Island Dweller—who cunningly adopts that name because he dwells on an island—writes the Czar to object:
O most magnificent Satrap of the Steppes:

Fish don't realize they swim; they think they can fly.

I have retired fairly recently after a total of 27 years of government service, 23 of which were spent as a civilian government employee. I hasten to add the organization I was a part of did and still does break a sweat for a living, and is not your archetypical government agency.

One of the most onerous things I had to do as a government employee was submit myself to a yearly form of penance known as Ethics Training. Our training department zealously ensured this block was checked on the appropriate form, along with all the other blocks. I know every other government employee who was not an SES presumably completed this training as well. It would seem that once one gets into the SES ranks, this requirement neatly evaporates, or at least it seems to. By way of illustration I draw your attention to the DOS, DOJ and IRS, all of which seem to have ethics scandals under way at the present time.

Evidence has been presented that Max Baucus calls or writes the IRS and demands the Tea Party, conservative Jewish groups, and other conservative organizations undergo audits or submit themselves to the most minute anal exam by that agency. No liberal groups were mentioned in this request – or rather, demand. What was to stop one of these more senior IRS administrators from thanking Mr. Baucus for his email/phone call/letter, then picking up the phone and notifying his in-house IG about this demand – in other words, complying with his ethics training? Why is there a double standard for more senior people? Where has ethics training gone in our culture? I don't fathom how any government employee – excuse me, "minion" – could comply with this demand without at least remembering their ethics training. Some well-known figures tried that "But I was only doing what I was told to do, and by lawful authority" defense at Nuremberg, Germany in 1945 and '46, but they got their necks stretched anyway. This mindless acquiesence by government employees to at least questionable, if not outright illegal and immoral, demands from the legislative or judicial branches is unbelievable. Boot-guts are desperately needed!

Your most confused subject
Island Dweller
Times like this, the Czar remembers his old late buddy Baruch Spinoza, who was graciously accepting any free drinks from any tavern in The Hague. He mentioned to us, after gulping down a warm, Dutch beer, "Pride is the enemy of ethics." He was always saying things like that, followed by a realization that this was a good line and could someone write that down on a cocktail napkin for him, which he would then stuff down the front of his shirt before putting his head down for a lengthy nap.
But he was right: whether it was as huge a person as Nixon thinking that laws can't seriously apply equally to the President, to a lower life anaerobe like a journalist writing a hit piece on conservatives and thinking it's fair because everybody feels like he does, pride is very good at knocking away your sense of ethics.
The problem with ethics is that government has reduced it to an exam. Yes, the instructional material is very good: nearly everyone is surprised to learn that certain actions that seem reasonable to you can appear unethical to an outside party for good reasons. But by making it an exam any government worker can pass, well, they think they're ethical now and have the diploma to prove it.
Yet your brief play within a play is correct: Senator Baucus calls a director at the IRS and makes a request to target conservatives. The director should explain that this action is illegal and therefore he politely declines the request. Or, failing that, the director agrees to obey and notifies an underling; the underling should ask if the action is legal. If said underling harbors doubts, he places a discrete call to the IG for followup.
But what really happened was this: Baucus—or someone more recently—contacts a director with the IRS with a request to audit these conservative groups. The director, knowing that fraudulent activity often happens in waves, recognizes that a lot of conservative groups have begun asking for tax exemption. The director notifies an underling to start the process, and the underling thinks "Yeah, that makes sense—these guys are just out to destroy the President."
It does not occur to anyone—from the Baucus office, to senior management, to mid-level management, to the so-called field offices, to the grunt workers, that something here is not only unethical, but expressly illegal. Why? Because everyone knows that these conservative action groups are up to something.
And when everyone knows something, it basically means you are in a groupthink bubble. Like fish are not always aware they are in water, liberals do not always realize they live in a bubble. This is true of conservatives by the way. More on that another day.

Божію Поспѣшествующею Милостію Мы, Дима Грозный Императоръ и Самодержецъ Всероссiйскiй, цѣсарь Московскiй. The Czar was born in the steppes of Russia in 1267, and was cheated out of total control of all Russia upon the death of Boris Mikhailovich, who replaced Alexander Yaroslav Nevsky in 1263. However, in 1283, our Czar was passed over due to a clerical error and the rule of all Russia went to his second cousin Daniil (Даниил Александрович), whom Czar still resents. As a half-hearted apology, the Czar was awarded control over Muscovy, inconveniently located 5,000 miles away just outside Chicago. He now spends his time seething about this and writing about other stuff that bothers him.