Marriage v. Civil Unions: A Way Forward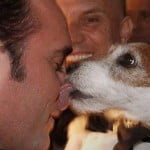 One of the reasons the same sex marriage debate is not a debate at all, but more of loggerheads is because two different liberal positions have banged into each other.
No, this would not be permitted in a civil union.
When proponents of same sex marriage try to present their arguments on the fly, they typically wind up sounding like morons. When asked "Why do you favor same sex marriage," the proponents generally respond with a litany of past injustices: either a specific example of a local, historical law that appears to discriminate, or else an anecdote about some Baptist preacher condemning them to hell, or some unsettled lawsuit because a business denied two gay people service. So when asked a better question—such as "How would same sex marriage help?"—the answers are generally confused and rambling. Typically, they fall into one of two responses: first, a repeat of the original perception of injustice (which is no answer at all since it merely repeats the previous position), or a laundry list of things that would be nice…but things that gay couples can legally do right now anyway (such as adoptions, visitation rights, inheritance). Even joint filing on taxes: many same-sex heterosexual individuals can benefit from tax breaks by incorporating and combining their tax structures. Businesses do it all the time.
So basically it comes down to this: same sex marriage proponents either have no clue why they want legalized same sex marriage, or they have been misinformed as to the benefits of marriage. They want same sex marriage approved because…uh…because they want it approved.
And can you think of a less pressing problem? Like gun control: when polls are taken on social positions, same sex marriage rates incredibly far down on the list of things Americans worry about. In fact, the Czar suspects that most gay couples have little interest in legalized same sex marriage, because they are informed enough to know it probably isn't worth the effort. Certainly more people are worried about jobs, the economy, gas prices, and cash flow; the whole news-gasm on same sex marriage seems ill-timed and a little distracting.
But the Czar has heard an argument advanced from the libertarian side that quite frankly makes a lot of sense. Maybe instead of getting the government to change the definition of marriage, we need to eliminate the government from the business of marriage.
Really: other than producing children (future taxpayers), what interest does government have in marriage?
Rather than change the definition of marriage to include same sex couples, we simply have the government drop all interest in claims of marriage and instead focus on civil unions. Very little law would need to be changed.
When a couple (heterosexual or homosexual) go to the county, city hall, a judge, or a justice of the peace, they can have their civil union recognized. Marriage, which the government will recognize as a form of valid civil union, will be performed by the church, temple, synagogue, or mosque of the couple's choice. If a church refuses to perform a same sex marriage, that's their choice—just as a synagogue or mosque won't have a pork shoulder barbecue, or a Mormon temple serve caffeinated coffee, or a Catholic church eat meat on a Lenten Friday.
There is no reason a gay couple—or a hetero couple—need to be married in a religious location. They can always get a civil union, pay the license fee, and be legal. Then, all legal benefits are exchanged and the day is done.
The problem is that government got involved in marriage in the first place, and here is the source of the liberal frustration. Yes: same sex couples deserve equal treatment under the law, one presupposed, but unfortunately the definition of marriage was co-opted by the government in the first place.
And why not, right? A marriage is a religious definition, and liberals want their religion——government——performing them right alongside the Christians, Hindus, Muslims, Jews, Buddhists, Jains, and so on. This is how one liberal notion collides with another.
There is no reason for this. With our idea here, government can and will perform civil unions with all the same benefits and options. Only religious institutions can perform marriages, which in turn will be recognized as civil unions. The reverse need not be true: a religious institution has no reason to recognize any civil union which contradicts their teaching.
Divorce, for example, already follows this model. You can be legally divorced, but some religious bodies will not recognize your divorce and so will refuse to grant you a future second marriage; you may even be excluded from some expressions of religious belief based on your divorce status. There is a distinction between a civil divorce and a religious definition.
Of course, this will require some rewriting of the tax code to purge the use of the word "married" from its pages, but we can all agree the tax code needs to be rewritten from scratch entirely. And local governments will need to change marriage licenses to civil union licenses, but that is a fairly trivial task.
The Czar welcomes your thoughts here. He is not interested in discussion of polygamy (which need not be recognized by the government) or adult-child marriage (anyone under the age of consent cannot be civilly united anyway) or bestiality or whatever bizarro exception to same sex civil unions we hear about. But is there a hitch, glitch, or stitch to this idea? Let us know.

Божію Поспѣшествующею Милостію Мы, Дима Грозный Императоръ и Самодержецъ Всероссiйскiй, цѣсарь Московскiй. The Czar was born in the steppes of Russia in 1267, and was cheated out of total control of all Russia upon the death of Boris Mikhailovich, who replaced Alexander Yaroslav Nevsky in 1263. However, in 1283, our Czar was passed over due to a clerical error and the rule of all Russia went to his second cousin Daniil (Даниил Александрович), whom Czar still resents. As a half-hearted apology, the Czar was awarded control over Muscovy, inconveniently located 5,000 miles away just outside Chicago. He now spends his time seething about this and writing about other stuff that bothers him.