How's Your Hindsight? 20/20?
So the Obama Administration campaigned on and self-proclaimed the following (still posted on WhiteHouse.gov):
My Administration is committed to creating an unprecedented level of openness in Government. We will work together to ensure the public trust and establish a system of transparency, public participation, and collaboration. Openness will strengthen our democracy and promote efficiency and effectiveness in Government.
Let's combine this with Nancy Pelosi's self-proclamation in 2006:
The Democrats intend to lead the most honest, most open and most ethical congress in history.
Keep both of these in mind as we look back on a few of the big issues that the country has faced in the last 7 years:
Obamacare – passed through parliamentary side routes rather than a straight up vote. GOP members questioned what would the bill cover and do and were waved off with excuses like, "we've got to pass the bill to know what's in the bill." Furthermore, the SCOTUS ruled that the bill was only legal in a way that the proponents argued it shouldn't be characterized as such. Plus, it's all free and he still believes that will drive costs down.
Benghazi – need we say more? Having "talking points" scrubbed a reported 12 times removing any mention of al-Queda or terrorism when the CIA had clearly included it at the start. This is after Obama decided to participate in military action in Libya without any consultation with Congress and it has left a mess in the country with further violence to our allies continuing. Jay "When I Grow Up I Want to be a Caterpillar" Carney is tap dancing like Andy Lee in 42nd Street around the whole memo rework. And for those, like myself, that predicted Hillary Clinton would leave his administration early to distance herself from the albatross that it is, did so too late. Any Hillary supporters out there should be pissed off at Obama and his klutzy handling of this issue.
Gun Control – he can't get enough members of Congress to get behind his proposals and is trying now via Executive Orders, which he campaigned against.
Green Energy Jobs – after many of them have been tied to donors and have failed, are we experiencing explosive growth in this area that is driving the recovery? Nope.
Federal Budget – he was late delivering it multiple times and three times it hit the floor of Congress with a thud resulting in ZERO votes.
Foreign Diplomacy – Syria, Iran, North Korea, Russia, China, etc. – are we really in a better place? Do you feel like his administration has our relationships in a good place with our allies and in a strong position versus others?
And now we have the IRS admitting to targeting conservatives. Remember, the IRS falls under the Executive branch and guess on whose desk that buck stops?
Yes, 20/20 hindsight is great, but take a gander back in our timeline and tell me we haven't pointed some of these out early. Just sayin'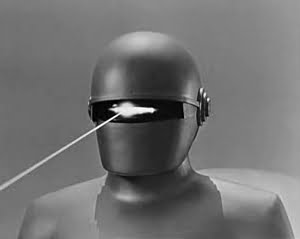 GorT is an eight-foot-tall robot from the 51ˢᵗ Century who routinely time-travels to steal expensive technology from the future and return it to the past for retroinvention. The profits from this pay all the Gormogons' bills, including subsidizing this website. Some of the products he has introduced from the future include oven mitts, the Guinness widget, Oxy-Clean, and Dr. Pepper. Due to his immense cybernetic brain, GorT is able to produce a post in 0.023 seconds and research it in even less time. Only 'Puter spends less time on research. GorT speaks entirely in zeros and ones, but occasionally throws in a ڭ to annoy the Volgi. He is a massive proponent of science, technology, and energy development, and enjoys nothing more than taking the Czar's more interesting scientific theories, going into the past, publishing them as his own, and then returning to take credit for them. He is the only Gormogon who is capable of doing math. Possessed of incredible strength, he understands the awesome responsibility that follows and only uses it to hurt people.