Holiday weekend Gormogonica — GorT's Sleazy Sixties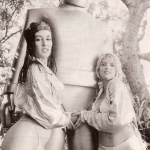 Very few of you likely know that our staid, dependable, eleven-foot, time-travelling robot, GorT, had a brief déclassé film career. Sure, you all know about his headliner role with Michael Rennie and Patricia Neal in The Day the Earth Stood Still (1951, dir. Robert Wise). Classic, right?
Well, GorT had a crook of an agent for a while—and it didn't help that GorT insisted on royalties calculated in the equivalent of bimetallism between Second-Foundation Kalganids and octal Triganic Pu. So, by the late sixties he was broke, and America was obviously going to Hell; so, like many down-on-their-luck actors, he did some stuff he wasn't proud of.
As part of the spirit of transparency that characterizes all successful secret global conspiracies for world domination, we thought we'd share this episode with you before some of the robot fetishists who deluge GorT with e-mail get wind of it on their own. A modified, limited hang-down, if you will.
But do not think you'll actually be able to run down a copy of GorT's shame. The only two known prints were burned up, one in the Library of Alexandria and the other on an attack ship on fire off the shoulder of Orion. (Though frankly, we'd be academically interested if you did, given that he's a mute intergalactic death machine with oven-mitt hands and nothing even slightly sexual in his specs—maybe it's the riding-a-washing-machine factor? He won't talk about it.)
Here, for your historical curiosity, then, is a publicity still from the shoot of Klaatu Barada Poontang (1969, dir. "Rubher Thighs").
P.S. GorT's finances are fine now. The Keanu remake dumped a U-Haul full of money in his lap. (Literally…condition of his letting them use his image in CGI.) Also, no worries, STDs can't survive on titanium.

Don't ask impertinent questions like that jackass Adept Lu.