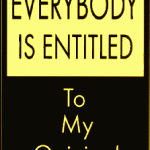 By the title of this post you might think this entry is to document where GorT has been as his post count is lagging a bit. Briefly, GorT has been crazy-busy at work logging 10% overtime on average for the last 3 weeks. It's a complicated story that involves everything from office relocations, personnel issues, and briefings to 2-star generals and undersecretaries. However, no, this isn't the point of this post.
GorT has been reluctant to post about the recent events in Boston for several reasons, but largely because the story was evolving over time and any commentary would likely soon change. I take nothing away from the excellent posts from my fellow Gormogons as they don't fall into the trap that I'm going to describe here momentarily.
Let's briefly look at where we are now as a society largely in the lens of the news cycle. We are in a state where a majority of us have an instant gratification that we constantly seek to quench. I think this is largely technology driven in that there is so much more information, processing power, and media storage capability than a decade ago, let alone a generation ago. Our cell phones rival what it took to put the Apollo missions into space and land on the Moon. Unfortunately, in a quest to fill that need, the news organizations have adopted a 24-hour, 7-day continuous news cycle. There is a drive to be the first to report or break a story. It is disheartening to see the lack of focus on being the first to report it correctly. Then, as we've seen before, cable news outlets fill programming time slots with essentially opinion segments. And that is what we largely, but not solely, evaluate as "news". We hear Chris Matthews implying that all domestic terrorists are on the far right. We hear Sean Hannity drilling Boston police and government officials for details that really shouldn't be discussed during an active investigation – and he'll turn around and point at the Obama Administration's inability to keep international actions (i.e. the Osama bin Laden raid) under tighter controls. This is all for entertainment value, mind you, and not in an effort to pursue the news.
Maybe GorT is being narrowly focused, but I think it would behoove us to cap off stories like this and, as consumers, really only look to news and not opinion sources. And look, listen, or read only what is truly relevant. Officials and we the consumers, should chastise "reporters" (to include these opinion talking heads) when they start diving into questions that shouldn't be answered at various times in an investigation. I think a few of the Boston police and FBI officials did so at the press conferences over the last week, but we need more. Admittedly, there is a fine line to walk between giving the general public information for their safety and giving out information that could glamorize or educate further evil acts.
GorT largely tuned out these folks and some of the news over the last week. I found that I was relatively up to date on the facts and was able to ignore the speculative comments and theories that abounded. I only found out about the capture of the 2nd suspect from a guest at a party we hosted last night who got an alert on his smartphone from a newspaper's app. "That's great – I'm glad they got him. Hopefully, they'll get some answers and information out of him," was my reply and I went back to the party. I'm not advocating living with your head in the sand, but rather, there are news stories, there are opinions, and there are efforts and information that should be close-held or secret. Let's remember the difference and respect them.
GorT is an eight-foot-tall robot from the 51ˢᵗ Century who routinely time-travels to steal expensive technology from the future and return it to the past for retroinvention. The profits from this pay all the Gormogons' bills, including subsidizing this website. Some of the products he has introduced from the future include oven mitts, the Guinness widget, Oxy-Clean, and Dr. Pepper. Due to his immense cybernetic brain, GorT is able to produce a post in 0.023 seconds and research it in even less time. Only 'Puter spends less time on research. GorT speaks entirely in zeros and ones, but occasionally throws in a ڭ to annoy the Volgi. He is a massive proponent of science, technology, and energy development, and enjoys nothing more than taking the Czar's more interesting scientific theories, going into the past, publishing them as his own, and then returning to take credit for them. He is the only Gormogon who is capable of doing math. Possessed of incredible strength, he understands the awesome responsibility that follows and only uses it to hurt people.