Tipping Points: Why Gosnell Matters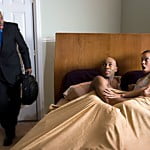 This is a particularly embarrassing Tweet:
On Gosnell "blackout," where were conservatives before this week? salon.com/2013/04/12/con… via @salon

— Donna Brazile (@donnabrazile) April 12, 2013
It is difficult to determine whether CNN's shockingly clueless Donna Brazile really believes this herself, or if she is summarizing the Salon.com piece; either way, her emphasis is clear that she agrees with the sentiment. Once again, liberals in the media emphasize that they are absolutely lost as to what goes on in the conservative news media whereas conservatives are acutely aware of just about everything going on in theirs. Either way, she should probably stay off Twitter for a while.
The Kermit Gosnell story is probably a game-changer whose effects—seemingly small in terms of news coverage—will have long-range implications for the Left.
"Oh hi honey…um, give me a minute and I'll come up with a reason why this isn't what you think it obviously is." —the media on the Gosnell trial cover up
As the Tweet shows, the news media reconfirms its extensive protection of liberal ideas. Remember, they will deny this to the end because they are completely unaware of it, like fish are of the water in which they swim.
As the President of NARAL indicates—"This is exactly what happens when you place undue restrictions and you try to shame women to keep them from exercising their constitutional right to safe and legal abortions."—liberals still believe that Roe v. Wade never happened and that every criminal act that comes out of abortion is the result of forcing women to hide their decisions. What a load of crap: folks, this is abortion under Roe v. Wade. It was never going to get better: you have been lied to since the early 1970s.
And proving that point further: the Czar hears Philadelphia investigators are showing up at other abortion clinics and discovering Gosnell may have been a trend. You can guarantee this will be suppressed if true, so keep watching this one develop. As thousands of wannabe James O'Keefes grab cell phone cameras, you can bet that this will be exposed plenty soon enough. Because, like scrapple, it is not just a Philly thing.
The Left continue to assume that anything whatsoever that embarrasses them or exposes their activities must be conservatives' fault. The non-news Salon.com management declared Bush worse than Gosnell because…well, George W. Bush. And that conservative news is responsible for the Gosnell cover up. When all you have is a hammer, you see every problem as a nail.
American attitudes toward abortion have finally tipped, after years of alleged 50-50 ambivalence. As you likely know, there is just about a 60-40 split against abortion in our country right now. Expect the Gosnell story—and all the related and indefensible aftermath—to tip this over the next ten years.
The Gosnell story is an example of the Left getting everything it wanted—government allowance, women's right-to-choose puffery, tolerance, and government-funded healthcare—and the world seeing what becomes of it. Conservatives can point to the Gosnell story and frankly do whatever they want to with it. And the Left has to sit there and take it.

The government can allow women unfettered access to the Constitutional right for an abortion, and yes, sometimes bad things like Kermit Gosnell happen as a result. Therefore, Americans have an unfettered right to carry guns, and sometimes bad things like Sandy Hook follow.
A media crusade againt obese kids? Against free trade? Against guns? Against the Tea Party? Against religion? No more, we sigh with great celebratory glee: the Washington Post declared the Gosnell trial a local crime and therefore of no national importance. As a result, all these other local events are of no national importance and we can stop hearing about them. Unless the Czar is mistaken, and the media must now launch a crusade against the systematic murder of thousands of defenseless, American babies otherwise known as abortion. This will be up to the media to decide: either way, they have a hard choice coming.
At last we put an end to Obamacare. But the government will do a better job, a more efficient job, and a less expensive job than healthcare can do itself. One word: Gosnell. For while every pro-abortion group in the world is trying to distance itself from Gosnell, the evidence is piling up that abortion agencies knew, funded, and tolerated Gosnell's crimes because they feared exposing the truth will prove disastrous to them. But make no mistake: Gosnell was operating with tacit approval from government authorities. Next time your liberal pal Facebooks up a bunch of all-caps about the quality of government-run healthcare, be sure to ask why it took so long to stop Kermit Gosnell.

Of course, the media is rightfully embarrassed. Shamed by conservatives and scooped by local news agencies with a millionth of the budget, the big media outlets are now asking themselves openly whether they should have paid more attention to this story. But you see, that's just it: it is a ruse. Because the media are only covering themselves with this. They still aren't exposing the horrors of Kermit Gosnell and what passes for the pro-choice argument. They are discussing the implications of Gosnell only so far as it reflects upon them. "Enough talk about us—do you think we should have covered the story more?" Word to the wise: this is not covering the Gosnell trial—despicably, this is a way to conceal it further by once-removing it from the public consciousness. And just as this will be a tipping point for abortion, this will be a tipping point for the MSM as they struggle to find an alternative to the obvious explanation. "But honey, she's reminding me of you" is not convincing when caught in flagrante delicto.
It is hard to imagine liberalism would have a worse year than 2009, but 2010 proved it. And 2011 topped that until we saw how bad 2012 got for them. That all said, it will be hard to imagine how the liberal world view could be worse than 2013, but our hunch is we will be forced to find out.

Божію Поспѣшествующею Милостію Мы, Дима Грозный Императоръ и Самодержецъ Всероссiйскiй, цѣсарь Московскiй. The Czar was born in the steppes of Russia in 1267, and was cheated out of total control of all Russia upon the death of Boris Mikhailovich, who replaced Alexander Yaroslav Nevsky in 1263. However, in 1283, our Czar was passed over due to a clerical error and the rule of all Russia went to his second cousin Daniil (Даниил Александрович), whom Czar still resents. As a half-hearted apology, the Czar was awarded control over Muscovy, inconveniently located 5,000 miles away just outside Chicago. He now spends his time seething about this and writing about other stuff that bothers him.