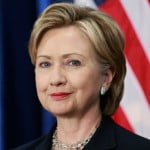 Did you know Hillary Clinton is going to be President in 2016? And did you know that she is such a shoe-in that there is no point even considering a primary? Yes, it is only 2013 but the facts are so obvious and clear that even the Republicans should pretty much get used to the idea that Hillary Clinton will be President in 2016.
So Presidential. You know it. Don't even bother voting.
On what does the Czar base this information? On the host of newspaper "articles" and television news programs that keep hammering this point home.
Did you see how she cut her hair? It's like the fun, warm Hillary Clinton of the 1990s is back! Go, Hillary! Look how tireless she is! Here she is over here…now over here. One can hardly believe someone unimportant once described her as looking tired.
This is hardly a new thing. The Hillary-for-Prez gimmick is entirely planned by her and her people, and goes back to Commander-in-Chief, a mercifully short-lived series in 2005 that portrayed Geena Davis as a fun, warm Hillary Clinton-like president that was so like Hillary Clinton as President that you had to believe that's what the inevitable Hillary Clinton presidency shall be in 2008.
Americans did not buy it then, and the show was cancelled after 18 episodes. But the show wasn't cancelled because people hated the idea of Hillary Clinton as a President, which of course they would love, but in order to make a feature film for release in 2008 in time for Hillary Clinton's inevitable election to the Presidency.
Of course, Barack Obama defeated her in the polls, and they had to release Zack and Miri Make A Porno instead, which required only minor edits.
But that's okay, because all the same sources keep reassuring you that Hillary Clinton will be President in 2016!
Actually, someone pointed out to them that Barack Obama will still be President in 2016 as his term ends in January of 2017, but that's okay because her inevitable election will be in 2016, so we can still run the same stories about what an awesome person she is and that America really wants her President.
Gush.

Божію Поспѣшествующею Милостію Мы, Дима Грозный Императоръ и Самодержецъ Всероссiйскiй, цѣсарь Московскiй. The Czar was born in the steppes of Russia in 1267, and was cheated out of total control of all Russia upon the death of Boris Mikhailovich, who replaced Alexander Yaroslav Nevsky in 1263. However, in 1283, our Czar was passed over due to a clerical error and the rule of all Russia went to his second cousin Daniil (Даниил Александрович), whom Czar still resents. As a half-hearted apology, the Czar was awarded control over Muscovy, inconveniently located 5,000 miles away just outside Chicago. He now spends his time seething about this and writing about other stuff that bothers him.