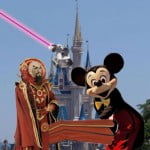 Ask any of the character actors, and they will assure you the best part of their jobs is the constant physical harrassment from visitors.
As we race into the summer months, many of you and presumably your parents will be heading for Disneyworld and to a much lesser extent Disneyland. Your Mandarin is something of an expert on Disney, having been there once long ago, and would like to share some tips with you on getting the most out of your visit. This won't be anything like you'll find in your guide books so for the love of all that is holy, listen up.
Wear comfortable boots that provide a lot of support around the ankles and calves. Because Disney is a slice of America as well as having lots of foreign visitors, you'll be doing a lot of gut-booting. Might we recommend something with good arch support but without terribly high heels?
Some rides require you to have a harness lower down over your upper body, in order to prevent you from launching out of the ride at high speeds. As a result, you may wish to forego the traditional high collar and epaulets in lieu of a more sensible cowl or exaggerated black turtleneck.
Alternatively, if you are like me, you will ask them to forego the harnesses to make the ride much more rewarding for everyone. A thrill ride with safety gear is a ride you know you'll be returning safely on…in other words, not much thrill at all.
Due to Disney's unfortunately strict no-weapons policy, you cannot bring in any ground-based weapons systems. Unless you want to leave yours rigged to the trailer hitch on your van where anyone can touch it, leave these systems at home.
However, you can bring in any controller for orbital and sub-orbital-based weapons systems! Do what I do and install the control app on your droid phone. That way, you're never more than seconds away from a 200-Terawatt MASER blast on some line-cutting jerk.
Disney can be expensive! Only bring the absolute minimum henchmen you need. In my case, I brought along a toadie, three goons, two thugs, and a cretin. I left the fast-roping machine-gunning ninjas at home, along with the karate army. And frankly, I left the cackling cretin in the hotel most of the time because he might have gone nuts in the Pirates ride.
You probably don't need nearly as much stuff as you need. Not many people realize there is a big variety of super hideouts available for rent or timeshare in the greater Orlando area. We found a nice one that had a gigantic magnet, shipyard cranes, missile silo, and testing bunkers a short walk from the monorail. There are even nicer and less expensive ones in Kissimmee, but you'll have to drive a bit and deal with Disney parking.

Anyway, have a great vacation, everyone. The Mandarin wishes you all a terribly mad summer.

The Mandarin, whose real name is 吏恆, joined the order in 1309, and introduced the Gormogons into England during the 18th Century.

The Mandarin enjoys spending time with his pet manticore, Βάρἰκος, or Barry (who can be found in the Bestiary). When not in the Castle…well, frankly, nobody is quite sure where he goes.

The Mandarin popularized the fine art of "gut booting," by which he delivers a powerful kick to the stomach of anyone that annoys him. Although nearly universal today, the act of gut booting or threatening someone or something with a gut boot is solely due to him.