Great Moments In Education: Bad, Bad Teacher Edition, Part 17,586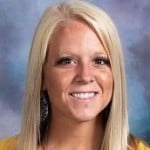 'Puter's teachers in high school
were Jesuits. And no Jesuit is
as good looking as this fine, young
lesbian child rapist.
It's been a long time since 'Puter posted on America's "education professionals" in action, too long perhaps. 'Puter thinks he got bored, since America's greatest minds (at least according to the teachers' union hacks) are discovered in flagrante delicto with their young charges on an almost daily basis.
But this story caught 'Puter's eye. A 22 year old math teacher and basketball coach at Riverton High in Utah stands accused of rape.
"Nothing unusual about that, 'Puter.", you might think.
Not so fast, Mr. Baseless Assumption. The teacher in question is cute, blonde female. Her name is Courtney Louise Jarrell. Again, nothing unusual, you might think. Plenty of young, hot, female teachers can't keep their hands off their male students.
Again, not so fast, Ms. Smarty Pants. Wait for it. Patience is rewarded around here. Ms. Jarrell stands accused of raping a female student. That's right: lesbian rape, in Utah, home of Mitt Romney. 'Puter's certain the media will shortly discover this is all the Republicans' fault, somehow.
'Puter's not sure how this one's going to turn out. If Ms. Jarrell was accused of sexually abusing a male student, this would have been dismissed by now. 'Puter's not so certain how lesbian rape (even assuming a willing partner) is going to play in conservative Utah.
Anyway, welcome back to a Gormogon classic meme, gone missing for far too long!

Always right, unless he isn't, the infallible Ghettoputer F. X. Gormogons claims to be an in-law of the Volgi, although no one really believes this.
'Puter carefully follows economic and financial trends, legal affairs, and serves as the Gormogons' financial and legal advisor. He successfully defended us against a lawsuit from a liquor distributor worth hundreds of thousands of dollars in unpaid deliveries of bootleg shandies.
The Geep has an IQ so high it is untestable and attempts to measure it have resulted in dangerously unstable results as well as injuries to researchers. Coincidentally, he publishes intelligence tests as a side gig.
His sarcasm is so highly developed it borders on the psychic, and he is often able to insult a person even before meeting them. 'Puter enjoys hunting small game with 000 slugs and punt guns, correcting homilies in real time at Mass, and undermining unions. 'Puter likes to wear a hockey mask and carry an axe into public campgrounds, where he bursts into people's tents and screams. As you might expect, he has been shot several times but remains completely undeterred.
He assures us that his obsessive fawning over news stories involving women teachers sleeping with young students is not Freudian in any way, although he admits something similar once happened to him. Uniquely, 'Puter is unable to speak, read, or write Russian, but he is able to sing it fluently.
Geep joined the order in the mid-1980s. He arrived at the Castle door with dozens of steamer trunks and an inarticulate hissing creature of astonishingly low intelligence he calls "Sleestak." Ghettoputer appears to make his wishes known to Sleestak, although no one is sure whether this is the result of complex sign language, expert body posture reading, or simply beating Sleestak with a rubber mallet.
'Puter suggests the Czar suck it.