Freedom, Equality and the Academy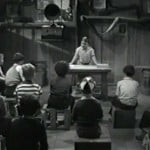 You had no idea they were Democrats, didja?
ŒV: Good God. RT @heminator: If you're an ivy league educated woman, motherhood makes you a traitor to feminism? bit.ly/11xjqLL
— The Gormogons (@Gormogons) April 23, 2013

Your Gormogons in recent days have been discussing with their minions and followers on Twitter (are you following us @gormogons, and if not, WHY NOT?) the issue of life balance and the female Ivy Leaguer.
This all started when Susan Patton, an alumna of Princeton University wrote a letter to the editor of her alma mater.
Here are some of the highlights (without going out of context):

Forget about having it all, or not having it all, leaning in or leaning out — here's what you really need to know that nobody is telling you… A few weeks ago, I attended the Women and Leadership conference…and I participated in the breakout session afterward…

[The students] asked about the value of our friendship, about our husbands and children…

At your core, you know that there are other things that you need that nobody is addressing. A lifelong friend is one of them. Finding the right man to marry is another…

Here's what nobody is telling you: Find a husband on campus before you graduate. Yes, I went there…

I am the mother of two sons who are both Princetonians…

Men regularly marry women who are younger, less intelligent, less educated…

Smart women can't (shouldn't) marry men who aren't at least their intellectual equal. As Princeton women, we have almost priced ourselves out of the market. Simply put, there is a very limited population of men who are as smart or smarter than we are. And I say again — you will never again be surrounded by this concentration of men who are worthy of you…

Of course, once you graduate, you will meet men who are your intellectual equal — just not that many of them…

Here is another truth that you know, but nobody is talking about. As freshman women, you have four classes of men to choose from. Every year, you lose the men in the senior class, and you become older than the class of incoming freshman men. So, by the time you are a senior, you basically have only the men in your own class to choose from, and frankly, they now have four classes of women to choose from…

Now Mrs. Patton kicked up a hornets nest. The Daily Princetonian created a link to the letters written as a response to the original epistle. Unlike some other Ivy League institutions, thoughtful debate came out, and it wasn't a simply a chorus of Harpies, Banshees and Erinyes crying out for teh justizes.
Indeed, one professor chalks up her two failed marriages to the fact that both she and her husband needed 'wives' at home. Not in the gay marriage sense, but in the life balance sense.

Susan Patton's letter of March 29 reminds me of a piece that preceded Anne-Marie Slaughter's in The Atlantic by a few years: "Marry Him! The case for settling for Mr. Good Enough," by Lori Gottlieb…Her advice resonates strongly with Ms. Patton's: addressing women who are already in the sad predicament Ms. Patton dreads for our female students after graduation from college and are no longer surrounded by "men worthy of them," Gottlieb doesn't mince words either. "My advice is this: Settle!"

As a heterosexual woman who put my ambition to earn tenure at Princeton before my desire to have a family — which as a result has not happened — and as a woman who has gone through two husbands and grueling IVF treatments only to find myself now single and childless, neither of which was part of my youthful dreams, I thank Ms. Patton for this chance to address an issue that's so central to so many women's lives and can be a source of so much anxiety…

My modest proposal is to recommend that it happen much more: What a woman who does want a family really needs is not a husband, but a wife. The last time I was married, my husband and I would both (simultaneously) wander around our house with arms upraised, lamenting, "Where's the wife? Where's the wife?" because that's what we both really needed. My advice to any woman who dreams of a family is this: Do exactly what those men Ms. Patton describes do, the ones who "regularly marry women who are younger, less intelligent, less educated." As soon as same-sex marriage is the law of the land — or even the law of your state — go out and get yourself a Russian mail-order bride! Any ethnicity will do, of course, and she doesn't even have to be younger, less intelligent or less educated — just less privileged, and thus ready to cook, clean and mind your children for you, all for a chance at living your American dream. She'll doubtless be grateful not to have to get "done" doggy-style on top of all that, and thus will be all the more devoted to serving your other needs. If Mr. Right should still happen along, I'm sure he won't mind the threesome…

She's not the only one thinking about this issue. Ross Douhat has shared his thoughts on the issue, as has Keli Goff.
Dr. J.'s been ruminating on this issue because it is near and dear to his heart, and because he can speak to it, not only from an all knowing Gormogon, but from behind the curtain as an alum of Ivy University, which is not dissimilar to Princeton University in its social environs, as the regional Alumni interviews chair, and as an individual involve (to a small degree) with admissions at New Atlantis Ivory Tower School of Medicine. Furthermore the Lil Resident had her own travails this year has she applied to the Bene Gesserit Chapterhouse of New Atlantis and takes her next step towards the torture that is balancing a high achieving career and family.
That is this. Dr. J. tells the Lil Resident (and the Lil Medstudent for that matter) that when she grows up she can do anything she wants, but not necessarily everything she wants. That every decision she makes will have consequences. If she wants to be a neurosurgeon, or make law partner by the age of 35, that comes at a price on the home front. As the child of two-career household, she sees how hard Dr. and Mrs. Dr. J. work to balance the job and the home-fires. She has told Dr. J. she's most interested in attending Ivy U. or New Atlantis Ivory Tower University for undergrad, although she wants to take a gander at Sewanee and Auburn as well.
If you read a number of the articles linked to, they raise a number of important questions about elite universities, their admissions policies, and their reason for existence.
There are a finite number of spots available in each class. For the current freshman class, there were about 34,000 applicants, 2,000 admittees and 1650 matriculants at Harvard. Yale enjoyed 29,000 applicants, with 2050 accepted and 1350 matriculating. Princeton, completing the Axis of Elitism™ comes in with 27,000 applicants, 2,100 admission offers and 1360 matriculating.
In other words there aren't a lot of keys to the kingdom given out year to year, and they don't grow with the population. Furthermore, Princeton, the last Ivy League college to go co-ed did so as recently as 1969. So when one of these elite schools offers an invitation to a student, should an 18 year old high school student be grilled as to what they intend to do with the gift of a Harvard, Yale, or Princeton education?
James Earl Jones's character, Professor Banks, in the '80s answer to the Paper Chase, Soul Man would argue that should be the case. While Dr. J. can't find the quote, he basically browbeats C. Thomas Howell for perpetrating fraud by pretending to be black to get a scholarship to Harvard Law School by impressing upon him the privilege of attending that institution given that it essentially punches his ticket and now that he has a punched ticket he better do something constructive with it.
Dr. J. believes that to some degree, that getting an 18 year old to genuinely and sincerely give a coherent and worthy life's plan that doesn't consist of platitudes sprinkled with naiveté to the admissions czar is as realistic as nailing Jello to a wall. It ain't going to happen.
While Dr. J. knew that he wanted to go to Ivy U. and be a physician since second grade, some of the details were not quite worked out. He didn't know the difference between a cardiologist and cardiac surgeon at the time and didn't know if he wanted to work with adults or kids or in an academic or private setting.
So, what are Dr. J.'s thoughts on the matter? They are as follows.
Dr. J. believes that an elite institution, be it Harvard, Yale, Princeton, or even lesser Ivy's like Ivy U., or other non-Ivy elite schools such as NAITU, MIT, Amherst or Stanford should balance the dual goals of admitting the strongest applicants to their University and creating a community where all the different needs of the community will be fulfilled (athletes to play on the sports teams, writers for the school papers, musicians, artists, individuals with overtly different academic interests etc…). There should not be a litmus test as to if the individual will use their degree as a step stone to in their ascent to national or international prominence, or if simply to learn for learning sake, before having a life, a job (rather than a career) a career oriented spouse and kids. Not only is such a litmus test discriminatory, but it will fail. Many of these kids will either lie to give the right answer, or more realistically, change their minds after getting to college. They might change their minds and do great things after emptying the nest. Ms. Goff's example of a Yale Law grad wanting to be a mom by 30, could also be a congressman by 55. You just don't know.
The stakes are higher with medical schools. In Dr. J.'s experience, presently, the applicants whose applications he reviews, or whom he interviews are, in aggregate, much stronger candidates if they are of the distaff persuasion.
However, Dr. J. noticed that in the corners of NAITMC, thoughts became whispers, whispers became words; and from good liberals, no less, that they are sometimes troubled with the idea that there are so many strong female applicants compared to male applicants. They are concerned, not because they think less of the ability of the gentler sex, but because a number of female applicants get their MD, and rather than hang the shingle, they put it up in a closet while raising their families, sometimes never to return to the dynamic and ever changing field of medicine. These good liberals site concerns about the looming shortage of primary care physicians, and perhaps even specialists on the horizon, why should they offer so many invitations to folks who may not use their degree. This goes beyond medical school.
The same concern exists in competitive residency programs (e.g. surgical specialities), and in fellowship programs. From the already select group of medical students, small handfuls are picked to be in prestigious residency programs, especially in surgical specialties, and then from the prestigious residency programs, fewer still who choose to subspecialize further are picked to enter fellowship programs. So when folks are trained and then don't use it, it actually affects access to care, unlike in the legal field where an unused Yale or Harvard law degree isn't really missed.
Dr. J., again errs on the side of freedom, unlike his more liberal compatriots who feel that they need to meddle with the dynamics of the applicant pool they created by 50 plus years of progressive feminist droning from the elementary school level to the highest echelons of the academy.
If Dr. J. looks at an application he doesn't care if they're male or female. He is looking at their application holistically to identify the best potential physicians possible. They have to be academically strong, have the appearance of a strong work ethic. They must be able to communicate effectively, and they must put forth in Dr. J.'s mind that they are called to serve in the profession, rather than medical school appearing to be the best port in the current economic storm. In other words, Dr. J. is looking ideally for the next Darth Ponicus, and if not Darth Ponicus, at least Dr. Rainbow Dash. He's trying to weed out the Dr. Raritys and Dr. Derpys at all costs. Obviously this is not without consequence, but the way Dr. J. sees it.
He has a number of female colleagues who are 0.8 FTE, working 4 days a week doing a magnificent job delivering care. Dr. J. refers friends to these individuals who wanted work/life balance. He would take 0.8 of a Darth Ponicus or a Dr. Dash over 1.0 of a Rarity or Derpy any day of the week. As it is better to have the most talented individuals delivering care rather than open the pipe with folks that have the potential to do harm along with the good.
Dr. J. has some terrific colleagues who took Dr. Alliston's advice, and let their husbands tend the homefires. While their husbands face greater discrimination (e.g., ' what's wrong with that guy?'), it is what works for them. He's had other power couples subcontract child rearing with baby sitters, nannies, after school care and grandparents. Adjusting for socioeconomic status, their kids seem to turn out OK at an equal rate to those with stay-at-home moms.
Dr. J. has even seen a few of his skilled colleagues leave the field early, after having kids. He was surprised at who they were, expecting them to be the ones who would be full time, hard driving power-physicans. They, however changed their mind, after they had their kids. But that being said, even when they aren't working, they're saving lives by not having that slot given to a Dr. Rarity or Dr. Derpy. Sort of an opportunity cost sort of thing.
He even has a dear friends of both sexes that are Darth Ponici who are 1.2+ FTEs and are married to their work. While they have some regrets, they don't have enoughof them to dial it back and settle down.
In summary, Dr. J.'s worldview is, "Take the best candidates you can get, and you will get the best from them, even if the best isn't the best you were planning on." The meritocracy should prevail.