Breaking the Nork Impasse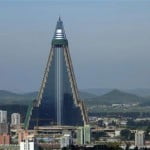 Excellent views from the upper levels. And they finally got rid of that crane at the top. By the way, for some good laughs, read the reviews.
A modest proposal arrives via carrier pterosaur outside yon Castle window:
Dear Czar of Muscovy:
Your ruminations on events in North Korea are worthy and thought-provoking, but in all the commentary I have seen on these developments, no attention has been given to an obvious breakout solution.

The United States is in a state of nuclear war with North Korea. So proclaims Dear Leader Kim Jong-un.

What will be the American response to this declaration of renewed war? Not wanting to kill a lot of people, the typical response of an American president has been to bomb some unoccupied building as a show of resolve. See, for example, the bombing of an aspirin factory by President Clinton in 1998.

Is such a target available in North Korea?

Yes, and it's right in downtown Pyongyang! It's the Ryugyong Hotel, whose fascinating history is available for perusal .

Nuclear retaliation and urban renewal all at once. We'll be bringing to our North Korean friends the creative destruction of free-market capitalism. Everybody wins!

— Mark Spahn (West Seneca, NY)
Welcome back, Mark! As always, it is great to hear from you and your avian reptile friends.
Your suggestion would have been timely in 1998 when we should have dealt with the Kim régime at first glance because then the RyuGyông Hotel was genuinely abandoned. Kim Jông-Il, however, really wanted to see this bad boy opened for business, and since 2008 they have been trying to get it marginally habitable.
Both Egyptian and Italian interests have occupied the lower floors of the hotel, and an incredible amount of money has been spent trying to correct the shoddy construction work and structural flaws in the building. The entire thing is an unsafe mess, and this is coming from someone who lives in a time-traveling castle.
However, as it stands today, the building is not at all abandoned. While the plans call for the safer, lower floor to be occupied full-time, the Kempinski hotel management giant maintains a skeleton crew of people there; made up of non-locals (usually), the Czar has past dealings with Kempinski and found them all to be smart and friendly employees. He would deign them to live.
In some respects, the hotel is a perfect symbol of the travesty that is the Kim régime; destroying it would eliminate an important reminder that communism is science fiction. Instead, if you are looking for a non-military target with minimal loss of civilian casualties, there is the ugly Kim il-Sung Stadium a couple miles to the East of the Hotel. It makes a great target for a few reasons:
It is esthetically ugly.
It sits in a park, fairly far from civilians.
Someone on Google has already labeled it Ground Zero. And read the reviews.
It is rarely used for sports.
And that sport is soccer, which—let's be fair—is worth hitting.
You know who likes soccer? 'Puter.
You probably guess this suggestion has more to do with soccer than with military advantage.
And you'd be right.

Божію Поспѣшествующею Милостію Мы, Дима Грозный Императоръ и Самодержецъ Всероссiйскiй, цѣсарь Московскiй. The Czar was born in the steppes of Russia in 1267, and was cheated out of total control of all Russia upon the death of Boris Mikhailovich, who replaced Alexander Yaroslav Nevsky in 1263. However, in 1283, our Czar was passed over due to a clerical error and the rule of all Russia went to his second cousin Daniil (Даниил Александрович), whom Czar still resents. As a half-hearted apology, the Czar was awarded control over Muscovy, inconveniently located 5,000 miles away just outside Chicago. He now spends his time seething about this and writing about other stuff that bothers him.