Which witch is the Lil Resident?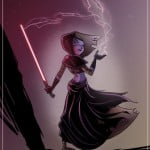 Fear not only leads to anger. Fear is the little-death that brings total obliteration…
There were tidings of great joy yesterday in the halls of J. Abbey.
March 2nd is independent school D-Day in New Atlantis and the Lil Resident's application to the Chapterhouse of New Atlantis was accepted. The Lil Resident will be trading in her lightsaber and earth-tone robes for black robes, a still-suit, and the blue within blue eyes that come from spice saturation. She will learn the ways of the Bene Gesserit until she leaves for university several years hence.
It was not an easy decision to apply to the Chapterhouse this year, as the Jedi Academy, which Clan J. loves, loves, loves offers two more years of education. That being said, we are big proponents of single sex education, as Mrs. Dr. J. attended a Bene Gesserit University and honestly the Chapterhouse is the only secondary-school that the Lil Resident wanted to attend after completing her studies at the Jedi Academy. Furthermore, it was Dr. and Mrs. Dr. J.'s opinion as well that it was the best fit for Lil Resident. Factor in that several of her classmates have older sisters some of which are already in attendance, and the remainder of those older sisters were to be offered admission today, it just seemed to be the prudent move to make the move early when she would be in all likelihood (and she was) the only Jedi in her grade submitting an application.
Now the road was not without its challenges. She had to continue her typical outstanding academic performance. In addition to her application, where we had to let her write her own essays without arm-chair quarterbacking (beyond simply saying,"Please check your spelling and grammar and also add a few more supporting sentences to each paragraph.") There was an individual interview and group project she had to participate in. All indications at the time suggested that she knocked those out of the park with a well placed Spider-Man metaphor during the interview and leading the group in the project in a very mature and collaborative manner.
We had to rally the support of the Jedi Academy, asking for letters and transcripts. Fortunately, despite her possible early departure, Master Yoda himself petitioned the Reverend Mother on Lil Resident's behalf when that is standard operating procedures for graduating students only, and not those jumping ship a couple of years early.
The Lil Resident's Gom Jabbar, however was the ISEE, the Independent School Entrance Exam. She took a practice exam in the fall and it was not without difficulties, so we signed her up for a prep course. Indeed, our archivist caught her in the Castle library studying at eleventy-o-clock at night on a school night as she was up late after dance and the prep-class slogging away at homework followed by some drilling. Indeed, Papa J. was teaching her test taking skills, problem solving, arithmetic with mixed numerals (2 1/3 – 1 1/2), and advanced geometric concepts during Christmas break.
She scored very well in three of the four sections, but the one section left us on pins and needles. Apparently that fourth section was hard for everyone, not just her. Her CTP IV standardized testing which followed the ISEE by 2 weeks demonstrated that the ISEE section was an aberration.
Regardless, the Lil Resident worked hard and we know will be a great success at the Chapterhouse and are tremendously proud of her for the grace and poise she's shown through this stressful process.
Now comes the rough part, breaking the news to her closest friends at the Jedi Academy, as this endeavor was approached with a level of stealth one would expect from our #ninjababe for obvious reasons.
GorT emailed Lil Resident's senior portrait from the Bene Gesserit archives from his recent trip to 2112..