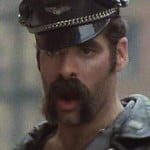 Sundry thoughts too long for Twitter.
So North Korea is accusing the US and South Korea of cyber attacks on their sole Macintosh SE/30. Um, yeah we are. They forgot Japan, by the way.
Our Gormocomputer in the basement indicates that at this precise moment, 3,492 Americans have no idea their car alarms are blaring because the panic button on their pocketed key fobs got hit when they last sat down.
March 14th (yesterday) was pi day, celebrating the crazy-long constant because the date was 3-14. You are allowed to use pi on other days. But why don't we celebrate √2 day on January 41st?
Glenn Hughes of the Village People could readily help the President with his disguise.
President Obama gave an interview to an Israeli television station, and said, "Sometimes I have this fantasy that I can put on a disguise, wear a fake mustache and I can wander through Tel Aviv and go to a bar and have a conversation." That almost certainly didn't come out right.
Although the Czar is compelled to ask why the need for a disguise. If the President wants to know what the average Israeli thinks, he could possibly just ask him without the elaborate disguise. Except that would involve talking to people, and as you know, the President only talks to common folk at beer summits. Just so you see him as a regular type of chap. And not an anti-social academic prig with nanometer-thick skin and an aversion to discourse with people who might have some disease.
The other day, the Czar was behind a driver whose car was straddling both lanes—the dashed white stripe lined up under her chassis like a runway. Slowly she drifted over to the right lane enough to where the Czar could pass her on the left; and as we did so, we saw the reason for her reckless driving—she was singing along with her radio, using her Starbucks tall cup as a microphone. And yet, the Czar would be the one to go to jail for murder.
Media coverage of the Pope's election show once again the MSM have no concept of how Catholicism works. Or religion. Or elections. How bad is it?

Божію Поспѣшествующею Милостію Мы, Дима Грозный Императоръ и Самодержецъ Всероссiйскiй, цѣсарь Московскiй. The Czar was born in the steppes of Russia in 1267, and was cheated out of total control of all Russia upon the death of Boris Mikhailovich, who replaced Alexander Yaroslav Nevsky in 1263. However, in 1283, our Czar was passed over due to a clerical error and the rule of all Russia went to his second cousin Daniil (Даниил Александрович), whom Czar still resents. As a half-hearted apology, the Czar was awarded control over Muscovy, inconveniently located 5,000 miles away just outside Chicago. He now spends his time seething about this and writing about other stuff that bothers him.