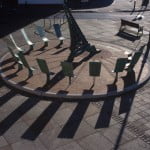 Very long-time fan (so listen up, yo) ScottO writes in to a couple of us:
Dear Dr. J., and with deferent regard to His Awfulness The Czar,

You can learn a lot about time and the Earth's position in space from studying shadows. By the way, if you see an object casting two shadows, run: that's usually a good sign an asteroid is seconds away from smashing into your location.

I read your post where you quoted from The Czar's post with interest in the mathematics and pragmatics of it all. One thing I found interesting is that The Czar's point about the position of the sun only holds true for positions somewhat near the meridian indicative of the time zone.

For instance, the Pacific Time Zone is (as far as I can tell) centered roughly around 120° West. So if I were, say, on the beach at the Cal-Neva Casino at noon PST, the sun would be directly overhead. If, on the other hand, I were in West Wendover, NV–at approx. 114° West–at noon PST (since all of Nevada is in the Pacific Time Zone), the sun would be approx. 6° to the west of my position. Even San Diego, CA is about 3° east of the 120th meridian.

But I digress.

The main problem with changing between Standard Time and Daylight Saving(s or no) Time is people who do not realize that the abbreviation "ST" means " Standard Time", and therefore should be used only when Standard Time is in effect. As Rush Limbaugh has said, words mean things. And abbreviations stand for words. Therefore abbreviations mean things, too. People should not just throw them around willy-nilly, i.e., e.g., viz., "EST." Whenever I get a meeting notice during DST that specifies the time in EST, I'm tempted to show up an hour late and tell them, "But you specified Standard Time!"

Of course, I would never do that at Castle Gormogon. Never, ever, ever, ever. Well, hardly ever.

Your minion,
ScottO
The Czar will clarify a bit of information for our readers. You should really read Doc's response, of course. This is just one of those optional block text quotes you see in textbooks.
What ScottO is describing is of course not well appreciated, but has nothing to do with DST or Standard Time. The Earth turns pretty much at an even rate (there are slight wobbles we cause at the Castle, but you rarely feel them), meaning that the shadow of the sun moves along the Earth's surface at the same rate.
But time zones are set up rounded to the nearest hour, and not (thankfully) minute. As a result, you get errors compared to astronomical time.
Astronomical noon is when the sun is directly overhead of your position if you were on the equator. If you put a perfectly straight stick into the ground at exactly 90°, the sun will cast no appreciable shadow.
But two things mess this up:
Time zones. If you happen to be at that perfect spot where the sun casts no shadow, and you phone your brother-in-law 200 miles to the East, he will report that he actually has quite a bit of shadow pointing East on his stick in the ground, and can he borrow $200. If you phone your sister 200 miles to the West, she will tell you that she has an equally long shadow, but hers points West; also, do not loan him any money. This is because the Sun hits the furthest eastern edge of your time zone about 15 minutes before it hits the western edge. As a result, the sun will be as much as 7-8° off true noon depending on where you are. Maybe more, as most time zones have very raggedy edges.
Latitude. The earth tilts as much as 23-1/2° depending on the time of year. So even if you were on the horizon of the equator at noon, you could easily see a shadow, pointing a little North or South. The more you go North, the more your shadow will point South, and vice-versa.
Experienced navigators and outdoorsy types know that you can use these problems to compute true North, South, East, and West by lining up the end points of these shadows (and it is easier than it looks).
Daylight saving time has no real effect on any of this, except to say that the sun's position will be off by as much as 15° from where it was during standard time.
But BG has a question about that axial tilt:
Your Craziness Czariness –

Can you stand one more missal regarding Daylight Saving Time? Because I believe I have a solution, which has the extra benefit of being one that only the Gormogons can carry out.

We go through this drama every six months because someone – probably a Bush – either George W or That Burning Bush Guy – decided Earth's axis should be tilted 23-1/2 degrees out of perpendicular from the path of its orbit around the sun.

We wouldn't be having this problem if Earth's axis was truly perpendicular to its orbit. No matter where you were on Earth, you would have twelve hours of daylight and twelve hours of darkness, all year round, except in canyons and places with lots of skyscrapers like New York City, which deserves eternal darkness anyway. And you wouldn't have any of that silly change of seasons, so you could pick a climate you like and enjoy it year round. Of course, my wife would have to divorce me, since given her druthers, we'd live in upstate New York while I'd prefer a more Texas-like climate, which is odd, since I'm from upstate New York and she's from Texas, but I digress.

So all we need to do is tilt Earth's axis back so that it is perpendicular to its orbit around the sun.

And I'm willing to bet a bag of cheeseburgers that The Mandarin has just the right equipment for the job, probably somewhere in your basement (go ahead – let him try to deny it). A few seventy terawatt lasers would probably do the job.

What could possibly go wrong? Worst case – you accidentally erase a few middle eastern capitals and maybe California.
As you suspect, the Mandarin is responsible for the Earth's tilt, and if you ask him very nicely by email, he might even tell you how he did it. He feels so lonely down in that basement, what with Czar and Dr. J getting all the nice emails. (Although Dr. J has been recently informed he is the worst Gormo ever.)
We can share why we did it: Wisconsin winters were awful before the tilt.
The tilt is of course why we get seasons: sunlight radiates in all directions pretty evenly, but because the Earth is tilted, the Northern Hemisphere get 23.5° latitude more heating in June, and the Southern Hemisphere gets 23.5° latitude more heating in December. Net result: Summer and Winter. And longer and shorter hours of daylight.
As you say, straightening out the tilt would make every day an Equinox of 12 hours of sunlight and 12 hours of night, right?
Not quite: only at the Equator. And screw them people.
Up at the North Pole, the sun would barely peek out over the Southern Horion. You would see a little light in the East, a little bit of sun to the South, and then a dreary twilight in the West. Same at the South Pole, except the Northern Horizon would get some light.
Down in Wisconsin, where we often park the Castle when visiting Earth, the Sun would rise around 0553 hours, and set at 1908 hours. Every freaking day. That got tiresome fast to Mandarin, who liked to walk his pet stromatolite in the later evening, so he did the whole Theia-Earth collision to tilt us. Actually, we kid: he had to teach the Theians a valuable lesson; you really should ask him about it.
Also, the poles would ice up more, and you would have snow in Canada almost year around. Believe us when we say things are way better with the very precise tilt you got from Mandy. For everyone. And goodness knows we're all about the little people here.

Божію Поспѣшествующею Милостію Мы, Дима Грозный Императоръ и Самодержецъ Всероссiйскiй, цѣсарь Московскiй. The Czar was born in the steppes of Russia in 1267, and was cheated out of total control of all Russia upon the death of Boris Mikhailovich, who replaced Alexander Yaroslav Nevsky in 1263. However, in 1283, our Czar was passed over due to a clerical error and the rule of all Russia went to his second cousin Daniil (Даниил Александрович), whom Czar still resents. As a half-hearted apology, the Czar was awarded control over Muscovy, inconveniently located 5,000 miles away just outside Chicago. He now spends his time seething about this and writing about other stuff that bothers him.