Open Items Needing Closing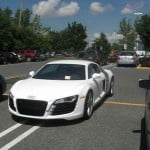 The Czar is so bad at responding to mail lately that you'd think he was Mandarin.
Anyhow, we have indeed been getting mail and it needs some attention.
BG writes in to send us a photograph (right) of an Audi parked across four lanes in a parking lot in order to prevent anyone parking near him. The Czar half-believes that is a ticket under the wiper, since the moron who parked it crossed over into a wheelchair-accessible space.
BG adds his lovely wife grows annoyed when he explodes at people like this, but she concedes that hollering to her is better than running people off the road. Perhaps in some context, yes, that is true.
Mandarin and your Czar know a guy who used to park his late Volvo so that no one would park next to him. Right, an ordinary S70, if we recall correctly. Precious.
Well, snowflakes need melting or you never make it to Summer. So for a few days, Mandarin and we parked our cars alongside him, closely, barely with enough room for the victim to enter and exit without dinging our doors. And he began to retaliate by parking his vehicle further and further away from the building he was in. So we followed him, at one point having to park all the way in Mexico, practically, and hiking our way back Norte.
Eventually he got the message, and stopped doing it. After we set fire to his car by forcing a lit bottlerocket through the air vents.
And what better email to get than something like this Ode to Joy?
Hello Czar,

Wow, what you come up with always beguiles my attention, even when, like now, more lucrative work beckons.

This GorT piece is a telling graph (I saw it on Watts Up With That), and your report on Sequestergeddon point to still another time-consuming read, which has a good summary of ClimateGate, for those who haven't been following closely (like me, who did not realize that the ClimateGate 2.0 release was encrypted, somewhat like scientists of old (Galileo?) claiming priority by releasing their discoveries in the form of a long anagram).
Thanks. We aim to keep you busy. And we have alerted Borepatch to your praise as well.
In praise of Borepatch, you write,

Borepatch's special gift is in taking the complex exchange of accusations and information, pulling out all the macguffins, and leaving you with a much simpler-to-understand analysis of what is going on.

I understand that a "macguffin" is an attention-getting but irrelevant detail in a movie, but what puzzles me is what "pull out" could mean here. Does it mean to pull the macguffins out of hiding for the reader's close inspection, or does it mean pull out as one pulls out a decayed tooth, discarding it from further consideration?

This "pull out" verb is an auto-antonym: it could mean either "drag out into the light of day", or "extract and remove from further consideration".
— Mark Spahn (West Seneca, NY)
Indeed, you are correct about the ambiguity of the word, for that the Czar will issue a rare apology for confusing you. The Czar meant to extract and discard the macguffins as—like all good macguffins—they serve no purpose other than to distract and keep things moving; their details are unimportant.
Thanks for catching that, because no doubt it confused a heck of a lot more people too awed and trembling to write in.
P.S. "Trash Can of Meh" — haha!
See? Now Mark Spahn is a quality individual. And because of that, he gets brilliant writing like that absolutely for free. No charge for witticisms.
Take care!

Божію Поспѣшествующею Милостію Мы, Дима Грозный Императоръ и Самодержецъ Всероссiйскiй, цѣсарь Московскiй. The Czar was born in the steppes of Russia in 1267, and was cheated out of total control of all Russia upon the death of Boris Mikhailovich, who replaced Alexander Yaroslav Nevsky in 1263. However, in 1283, our Czar was passed over due to a clerical error and the rule of all Russia went to his second cousin Daniil (Даниил Александрович), whom Czar still resents. As a half-hearted apology, the Czar was awarded control over Muscovy, inconveniently located 5,000 miles away just outside Chicago. He now spends his time seething about this and writing about other stuff that bothers him.