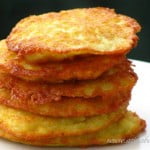 'Puter nailed this article to the Czar's locked bedroom door, in hopes we saw it. We had not, and indeed we are creeped out a little by it…only because it was nailed to the inside of our locked door. Most worrisome.
Bliny!
But yes, it is truly bliny time. The story explains that Pskov—one of those city names that can only exist in Europe's vowel-minimizing Eastern edge—is making its giant blini, or the Czar Pancake.
The Czar can eat a lot of pancackes, although he admits he likes maple syrup more than just butter alone on them. The Czar Blin, as the article notes is not only a monster pancake, but is also a rude phrase in Russian. You readers are welcome to decide which refers to us.
Anyway, the whole thing is a stunt tied to Maslenitsa, or the Slavic mardi gras. When you are done with pączki on Fat Tuesday, hang around a couple weeks and slip past the Iron Curtain for Maslenitsa pancackes (bliny). Probably much better for you than pączki, bliny are a way to say "We're not going to eat well for the next 40 days, so we might as well eat bad today." This is perfect Russian logic.
Maslenitsa is a bit of a festive affair, as you can imagine, before eating beets and cabbage for the next month plus. People celebrate it in different ways. In the Czar's village as a boy in the 1270s, we called it день обыскивая курицы, or chicken-frisking day. Because it is forbidden to eat meat, fish, or dairy during Lent, we would treat the peasants to a massive feast, and then—after they were filled with bliny and meat, fish, and dairy, we would eat them. Catholicism is way easier: you can at least eat fish and dairy, and then only on Fridays.

Божію Поспѣшествующею Милостію Мы, Дима Грозный Императоръ и Самодержецъ Всероссiйскiй, цѣсарь Московскiй. The Czar was born in the steppes of Russia in 1267, and was cheated out of total control of all Russia upon the death of Boris Mikhailovich, who replaced Alexander Yaroslav Nevsky in 1263. However, in 1283, our Czar was passed over due to a clerical error and the rule of all Russia went to his second cousin Daniil (Даниил Александрович), whom Czar still resents. As a half-hearted apology, the Czar was awarded control over Muscovy, inconveniently located 5,000 miles away just outside Chicago. He now spends his time seething about this and writing about other stuff that bothers him.