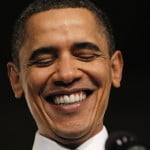 Some buzz is going on about this show The Bible. It appears to be based on a book by the same name, but the Czar could not locate the author's name.
Okay, so maybe there will be a second season or not; it is too soon to tell. But some of the hollering from the Left—because there is no possibility of making a religious show without offending the willfully and persistently outraged—is that the actor playing Satan looks suspiciously like President Barack Obama.
Well, now the shoe's on the other foot, right? As if the Right didn't have to sit through hours of George W. Bush pantomimes, eh? Of course, hypocrisy never travels far without irony: the Left is aghast that someone would make fun of their religion of making fun of your religion.
Let's just see for ourselves, shall we? Let's do this Dr. J. style.
Here, for your reference, is a picture of President Barack Obama.
And here is a screen grab of Satan from History's The Bible. It feels weird even typing that sentence.
The two seem uncanny. But it could be cherry-picking. After all, here is a different screen grab from a different angle:
And again, talking to Job (note the iPhone. Get it?:
What do you think? You can always email us over on the left, there.

Божію Поспѣшествующею Милостію Мы, Дима Грозный Императоръ и Самодержецъ Всероссiйскiй, цѣсарь Московскiй. The Czar was born in the steppes of Russia in 1267, and was cheated out of total control of all Russia upon the death of Boris Mikhailovich, who replaced Alexander Yaroslav Nevsky in 1263. However, in 1283, our Czar was passed over due to a clerical error and the rule of all Russia went to his second cousin Daniil (Даниил Александрович), whom Czar still resents. As a half-hearted apology, the Czar was awarded control over Muscovy, inconveniently located 5,000 miles away just outside Chicago. He now spends his time seething about this and writing about other stuff that bothers him.