Czar's Guide to Filibustering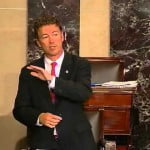 Senator Rand Paul pulled an age-old stunt out of his bag of tricks and executed a genuine filibuster yesterday. Surprise, surprise, that a Senator droning on CSPAN-2 would score millions of viewers more than MSNBC had all day. The Czar had no idea he would be writing about this today.
During yesterday's filibuster, Senator Paul compares his father's height to his own.
What is a filibuster? The Czar had to answer this question no less than six times yesterday to the same person. So here is a guide, done entirely from memory, to filibusters.
Q. What is a filibuster?
A filibuster is an intentional delay in which a person speaks continuously to avoid any real work getting done. You have experienced this many times at work.
Q. Why is called a filibuster?
The filibuster was named after the very first senator, Sen. Buster Phillips of Delaware, who in 1776 elected himself with a plurality of the vote (this was to become a Delaware tradition for many years). Sen. Phillips entertained the assembly for some time performing several card tricks, telling randy stories from his youth, and revealing how his wife made awesome bean cakes until the rest of the Senate realized he was not hoping to block legislation but was genuinely insane. Then he did a little dance.
Q. How long does it last?
As long as the Senator continues to speak, he does not need to leave. The very first filibusters lasted only five or so minutes. Now they last hours, each one getting longer than the last. By 2020, the filibuster will likely last the entire time the Senate is in session.
Q. They have to continue speaking?
Correct. Senators cannot even take bathroom breaks; they are expected to soil themselves no matter how uncomfortable or embarrassing that is. Sen. Ted Kennedy was incredibly adept at this, even though he never performed a filibuster. Rand Paul, with his astonishing self-control, managed to go the entire time without urinating, although numerous liberals peed the longer he spoke.
Q. How did the filibuster get its name?
The filibuster is named after the original Constitutional Convention held in Philadelphia. The idea was to keep Senators out of the bars, which would naturally have the immediate effect of bankrupting Philadelphia. So-called "Philly busters" were why Philadelphians overwhelmingly voted to move the nation's capital to either New York or Washington. Look it up.
A popular sandwich in Philadelphia is still called the Philly Buster. Like all foods from there, it is made up of far too much cheese and inedible animal tissues.
Q. What's the record for the longest filibuster?
Senator Harry Reid managed to prevent the Senate from getting any work done from 2007 to today.
Q. Only the Senate does filibusters?
Correct; when the House of Representatives wants to prevent anything from really getting accomplished, they hold town hall meetings.
Q. Filibusters look like a good way to prevent hasty legislation from happening.
That isn't a question.
Q. Aren't there suggestions to eliminate the filibuster?
Yes, typically by the majority party. The filibuster is a great way for the less popular political party in the Senate (typically Republicans) to prevent the actions of stupid legislators (typically Democrats).
Q. Where does the word filibuster originate?
The term originates in the British Parliament, and is a contraction of Phillip of Uster, an MP who in 1741 talked for 214 hours on one unimportant subject, which is unusual even for a British politician. When the United States Senate acquired Parliament in 1814 as a war penalty, the tradition came with.
Q. If senators cannot take breaks, how come Rand Paul sipped water, let others speak, and led viewers on the 1:45am segment for a personal tour of the Capitol?
Those were television breaks; as you probably noted, the game clock was paused the entire time so it doesn't count against Sen. Paul.

Божію Поспѣшествующею Милостію Мы, Дима Грозный Императоръ и Самодержецъ Всероссiйскiй, цѣсарь Московскiй. The Czar was born in the steppes of Russia in 1267, and was cheated out of total control of all Russia upon the death of Boris Mikhailovich, who replaced Alexander Yaroslav Nevsky in 1263. However, in 1283, our Czar was passed over due to a clerical error and the rule of all Russia went to his second cousin Daniil (Даниил Александрович), whom Czar still resents. As a half-hearted apology, the Czar was awarded control over Muscovy, inconveniently located 5,000 miles away just outside Chicago. He now spends his time seething about this and writing about other stuff that bothers him.