Both Republicans and Democrats Must Change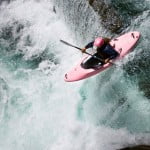 The Czar sent a note over to the mighty Borepatch the other day, as this sort of thing is more up his alley. That is, one of Borepatch's many areas of study is how the two dominant political parties have grown more similar, while simultaneously never being more polarized.
Democrats are pretty sure they can tax the rich and get out of this one. Right? Right?!?
Specifically, the question we sent him was whether the many overlapping areas of similarity between Democrats and Republicans—establishment spending, general reluctance to tackle entitlements, local money grabs, public opposition but private country club friendships, and so on—are caused by broad appeals to the so-called "independent" voters: those voters who pretend to be outside of mainstream parties and who pretend to be centrist and dispassionate, but really have no clue what they believe and actually vote more by sound bite than by sound reasoning. Basically, the 30% who went for Barack Obama despite (according to exit polling) rejecting nearly everything he stands for.
Borepatch may or may not be mulling over an answer; even so, here is the Czar's first thought: in trying to win this 30% of the voters—and God knows they elected and re-elected Barack Obama—it helps to offer them junk. Not necessarily free stuff, as pretty much everybody knows it needs to be paid for—but simple platitudes, easy-to-digest fluff, bumper sticker quotes, and so on.
The Republicans, trying to win the same 30% back, are offering equal amounts of stupidity. Hence, you wind up with the political parties each offering the same pablum—hence, the libertarian (or contrarian, if you're Borepatch) position that Republicans and Democrats are getting to be too much alike. Yeah, because they need the votes!
Meanwhile, the remaining 70% is split between factions who are never, ever going to see eye-to-eye; hence, you also have this seemingly paradoxical bi-polarity that ensures the two parties will never come to any agreement on core issues: taxation, reform, enforcement of liberties, and the like.
The Czar, who is a genius and once scored so high on the MMPI that they called the police on him, thinks he is probably onto something here.
The second point of the day is what this means. And what this means is that we have two political parties who are facing a crisis that cannot be readily solved with a status quo. To sensationalists like Glenn Beck, this means that society will break down and we will solve this possibly through civil war. To long-lived folks like the Czar, this means that the parties are going to see fundamental change, but nothing so dramatic.
The Republicans will not change their name (like the Whigs), but we already see an increasingly obvious shift toward libertarian conservatism that is matching the national mood. People stood with Senator Rand Paul not because they all universally agree with his concepts of foreign policy, but because he was actually doing something: he was telling both parties (as it turned out) that he's had enough. Given the substantial rewards he received—and taking careful note of the abuse critics like Sen. John McCain received—you can expect more and more Republicans to take similar stands. Right or wrong, the libertarian conservative wing of the Republicans are being perceived as doing positive things; and as you know, that's generally all you need in politics is a positive perception.
This seismic shift is more obvious, and runs deeper, than the Reagan revolution in the late-1970s and early 1980s. Ronald Reagan, for all his worshipers, was much more of a compromiser and ameliorator than any of the GOP's rising stars. Heck, Reagan would have easily identified with John McCain than Ted Cruz. Of course, things were different then, and the Czar maintains that our country does not need another Ronald Reagan as badly as it needs a Calvin Coolidge. And we have some emerging leaders on the Right who could do it.
But should that happen, you can expect a tremendous shift in emphasis from the Republicans, who by 2016 could be amazingly unrecognizable by Republicans from 1998. These new Republicans could be almost entirely fiscal reformers, comparatively uninterested in a person's religion, sexual orientation, or depth of military service. Most of these things are unimportant to conservatives, and in most respects uninteresting to libertarians. And as the party gains ground among these different groups, the movement will strengthen.
Now look at the Democrats, who have changed multiple times throughout their history. The bottom line is that the Democrats were systematically taken over by Liberal Progressives—starting in the 1950s but really gaining ground in the 1990s. A democrat from 1948 would be unable to understand this party today—emphasis on massive government spending and taxation, disregarding American exceptionalism, Leftist messages, massive social agendas—and even John F. Kennedy would boggle at what the hell happened to his party. To go from "Ask not" to "You didn't build that" in one generation requires no less than 180°.
History aside, the Democrats are ultimately doomed in this current incarnation. The party is spending itself out of power. Already it has discovered it cannot sustain these billion-dollar elections, and must turn toward political contributions from the very action committees and big organizations it detests. On every issue involving math—from social security to healthcare to taxation—the Democrats cannot explain their policies without more platitudes or assurances that "there's plenty of money." The obvious drop in approval the President has suffered is not because he lied to the American people about sequestration, but because the American people now believe (as demonstrated on Saturday Night Live) that President Obama probably has no real idea how money works in the real world.
Despite blaming Republicans for every imaginable event, and despite assuring Americans that everything is fine, the public is able to see that money just keeps running out, and nobody seems to know where it is going. Have the Republicans properly capitalized on this? No. Have the Republicans easily informed the public they have feasible alternatives? No.
Not that it matters—even if the Republicans do nothing to help themselves, the Democrats cannot sustain their disproven, faux-Keynesian model of spending. The Democrats's promise that they can spend their way to prosperity is like assuring folks that the nighttime will never come when the sun is visibly setting. People know better.
The Republicans may yet survive, but in all likelihood will see a newer, younger, more invigorated and aggressive party. The Democrats have no Plan B, and will likely become a heavily splintered collection of special interest groups as bad as or even worse than they were in the 1980s.
The Independent voters will once again be forced to choose, as they did in 1932 and 1980.

Божію Поспѣшествующею Милостію Мы, Дима Грозный Императоръ и Самодержецъ Всероссiйскiй, цѣсарь Московскiй. The Czar was born in the steppes of Russia in 1267, and was cheated out of total control of all Russia upon the death of Boris Mikhailovich, who replaced Alexander Yaroslav Nevsky in 1263. However, in 1283, our Czar was passed over due to a clerical error and the rule of all Russia went to his second cousin Daniil (Даниил Александрович), whom Czar still resents. As a half-hearted apology, the Czar was awarded control over Muscovy, inconveniently located 5,000 miles away just outside Chicago. He now spends his time seething about this and writing about other stuff that bothers him.