In which Gen X is getting old…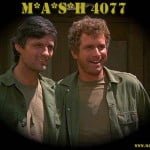 The one one the left is a good doctor, the one on the right, a good businessman.
Dr. J. was watching MASH last night. MASH was appointment television for Dr. J. and Papa J. who served in Berlin during the Korean War. Yes, yes, the show has lefty overtones, especially in the later years, but regardless, it is still enjoyable TV and remains Dr. J.'s favorite medical comedy/drama. Hawkeye and Winchester remain model physicians in Dr. J.'s book of clinician role-models.
Last night's episode is the one where everyone is overworked and getting little sleep and they all have odd and disturbing dreams. Dr. J. remembers watching its premier back in the day. Dr. J.'s AT&T U-Verse will tell you when you press 'info' when the show was first broadcast, in this case, back in 1980.
When you do the math, the episode was first broadcast 33 years ago. The Korean War began 30 years before that. In other words, this episode is now older than the Korean War was when the episode was broadcast.
Dr. J. is getting old.