Shooting Skeet, Or Shooting Bull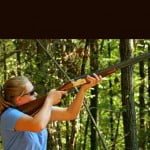 RKB writes into the Czar with an appropriately supplicating tone:
Oh great and dreadful Czar,

She isn't using a pump shotgun, which tells the Czar she knows about shooting clays. Bet she knows the President lied about his experiences based on his wording.

Forgive my insolence in even thinking such an issue would be unknown to you being as you are all knowing and all wise. I thought I would bring the actions of one of your ever faithful minions to light of your ever august presence. the Indomitable Borepatch has created a petition regarding your antithesis asking that President Obama to invite Congresswoman Marsha Blackburn to Camp David to go skeet shooting.
Indeed, the Czar is not only aware but recommends folks read Borepatch every single day.
The story is that, a few days back, the President announced he totally understands people who cling to their guns; after all, he has done a fair amount of skeet shooting himself up at Camp David. Incredibly, some members of the press actually asked for proof of that. The White House changed the subject, and later announced they could not necessarily find any pictures of the President shooting clays because with photographers taking continuous pictures of him relaxing, playing golf, billiars, basketball, and other recreational activities, any other photos of him would be invasive of his privacy.
The explanation here is quite simple. He lied.
His intention was to convince people that he does understand the Second Amendment, particularly the part where the word "hunting" is underlined three times. As a result, you have to admit his proposed gun control ideas are not all that crazy. He likes them, and he's a shooter himself.
Except that he lied. The President betrays his ignorance by even calling it "shooting skeet." This is a term rarely used by people who do it, who tend to refer to it as "clays" or "trap," depending on the layout of the throwers. It's the same type of not-quite-insider terminology when people refer to lawn bowling or bocce as "bocce ball," Or a hockey sweater as a "jersey." You can get away with it, but insiders know you're not one of them.
Just like when the President praised his favorite baseball team, the White Sox, as playing in "Comiskey Stadium." Ignorance, in some people, reveals itself right away.
The President makes a ridiculous amount of mistakes, including confusing clips and magazines, thinking duck hunters use "six shooters," and other not-so-subtle clues that for a guy who surrounds himself with well-armed bodyguards and who commands the most powerful military on Earth, he doesn't much talk to those types about their tools.
Turns out, as the Czar writes this, that an update to the story has happened. The President has used a shotgun: just twice, the first time for five minutes, and hated it. The second time allegedly did happen at Camp David; the results are not known. But "all the time?" No, that's a lie.
The petition, winking though Borepatch obviously is, will not go anywhere if the media themselves were unable to press the issue. It will be another example of the President openly lying about something and getting away with it. He's been at it a while, of course.
Of course, if any of you readers like shooting clays and trap, and you refer to it as "skeet shooting," ask yourself if the Czar really wants to hear about it. The answer, of course, is no. If you like shooting clays and trap, yes: the Czar wants to hear about it.
P.S. You should see the Mandarin shoot clays. He's freaking awesome at it.

Божію Поспѣшествующею Милостію Мы, Дима Грозный Императоръ и Самодержецъ Всероссiйскiй, цѣсарь Московскiй. The Czar was born in the steppes of Russia in 1267, and was cheated out of total control of all Russia upon the death of Boris Mikhailovich, who replaced Alexander Yaroslav Nevsky in 1263. However, in 1283, our Czar was passed over due to a clerical error and the rule of all Russia went to his second cousin Daniil (Даниил Александрович), whom Czar still resents. As a half-hearted apology, the Czar was awarded control over Muscovy, inconveniently located 5,000 miles away just outside Chicago. He now spends his time seething about this and writing about other stuff that bothers him.