R2DT and R2E2 host the Second Annual Geleophysic Dysplasia Webathon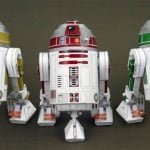 R2DT pictured here with R2E2 and R2C2, now get charitable, y'all!
Operative R2DT writes in from the Outer Rim Territories regarding his niece, R2E2's ongoing efforts to raise money and awareness for a rare illness that took the life of her younger sister, R2C2 called Geleophysic Dysplasia:
Dear Dr. J.
Just an update …
Niece R2E2 continues her American Heart Association fund raising efforts, even after a move from TX to OK.
In 2011 she raised $5,700.
In 2012 she raised $11,000.
This year, her goal is not monetary. She's trying to get 1,000 supporters. I don't know if I'm more proud of her for the success she's had or because she's setting ambitious goals and working hard toward them.
If you could send out a supportive tweet or blog post, we would very much appreciate it.
Relevant links are:
Thanks, Dexter Turner
Dear R2DT,
Thanks for the update, Dr. J. couldn't be more proud to see a young lady work hard with a purpose. This bodes well for her future. Dr. J. also thinks that it is smart to concentrate on increasing awareness and grow her support base, rather than focus on a dollar value. If more people give a little bit, the result is both a more stable and eventually larger, charitable donation source.
Best,
Dr. J.