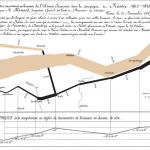 Dr. J., like GorT loves elegantly visualized information. Indeed, The Visual Display of Quantitative Information, by Edward Tufte is required reading at New Atlantis Ivory Tower School of Medicine.
Dr. J.'s favorite example is this map/graph of Napoleon's invasion of Russia:
In this case, a picture is worth more than 1000 words.