Mailbag: Kitties and Cookies Edition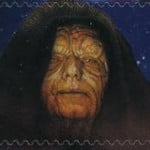 Dr. J. is emptying out his inbox and finally has a moment to respond to these missives from earlier in the week.
Operative RKB writes in:
I did not know you had a kitten, but apparently he(she ???) is putting videos up on youtube. At least, since it is a force wielding kitten, I have to assume it is yours.
Dr. J. has two cats, both of which are older than the kitten in the film. He also has Lady J., a Cavalier King Charles Spaniel with whom our twitter followers are well acquainted.
Since then, she's grown quite a bit and is pictured below wearing her Hoth invasion uniform.
Begin landing your troops! Rebels taste like BACON!!!!!
Jedi Kitten with the Force:
Dr. J.'s cats know the power of the dark side, and a more reasonable facsimile can be seen in this clip:

Any appearances to kittens, living or dead is purely coincidental, but thanks for writing in!
The Castle Archivist, Marie who can be followed on twitter @MbernadetteE sent Dr. J. this birthday message earlier in the week:
Dear Dr. J.,
Joyous anniversary of your exit from the womb into the world!
Best, The Archivist
We apologize for the late thank you!
Thank you for the well wishes and the cookies, Marie! We enjoyed the cookies on liqueur night at the Leaping Peacock. They were excellent for dipping in our absinthe. 2-1B was kind enough to pick them up and deliver them to us post-haste. The other minions are unreliable with food runs, as is well established from our prior writings.