Dr. J.'s Christmas Tree(s)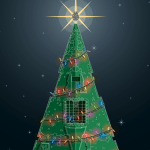 Some people put antlers, elf ears or candy canes on their car.
Dr. J. went the whole nine yards, pimping his ride for Christmas:
Imperial Star Destroyer – Christmas style.
Note the Christmas Light undercarriage!
But, as you know. Clan J. has more than one tree.
Here is one of them:
You've failed me for the last time, Vader!
And here is Dr. J. with the other:
Mrs. Dr. J. likes him to help decorate.
Merry Christmas!