Dr. J. likes French Fries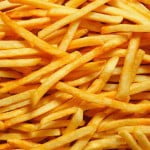 Dr. J. really needs to get back to work.
McDonald's fries went downhill when they moved to Canola Oil
That being said, he loves French Fries. Mrs. Dr. J. prefers he order the fruit kebab poolside at New Atlantis Country Club, but on occasion, he has to indulge, especially if it is somewhere where the fries are divine.
Here in New Atlantis, Bobbie's Dairy Dip is a city landmark and the truth is that you can't go there and not get the fries. They are cooked Belgian style (fried twice) and compliment a twist frozen custard nicely.
A restaurant called Burger Up, known for their high end burgers also makes some mean truffled french fries.
For a chain, Five Guys does a good job as well.
If you move north to Philadelphia, a Belgian restaurant called Monk's Cafe was notorious for great mussels, Belgian drafts, and fries. It was a frequent haunt of Dr. J.'s when he was a resident.
Dr. J. brings this up because a Facebook friend (not Spooky Witchy Facebook Friend, but a friend of a friend friend) linked to this article in Travel in Leisure.
They cover a number of places across the country, but none of Dr. J.'s haunts, surprisingly.
Enjoy your fries, before Michelle Obama and Michael Bloomberg crack down.