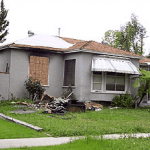 A nice Polish lady got to conversing with us the other day, and asked if we had heard anything about Obamacare taxing people selling their homes, starting in 2013. Would this not, she suspected, severely damage home sales just when the housing market is starting to come back?
Yeah, one doubts this guy will have to pay a tax. Bet he lives near Dr. J's old house.
The Czar admitted he was unaware of this, but has since learned that a flurry of emails is going around, warning people that anyone who sells a home will be taxed something like X percent, where the X is whatever number they heard yesterday plus a couple of points.
He has also learned it is partially true. But you won't find that spelled out—rather, you will be taxed 3.8% for your investment income. Mandarin over here was aware of the investment income, but also had not heard about it applying to home sales.
Okay, so this is true—but only after a pretty ambitious point.
In order to be taxed, you first need to make a profit on it; specifically, did you make more than $250,000 in profit (if single) or $500,000 in profit (if married)? If not, you will not be taxed.
If so, is your total income above $200,000 (if single) or $250,000 (if married)? If not, you will not be taxed.
But if you did make a profit above $250,000 and you do make above $200,000 a year (or if you and your spouse made $500,000 or more and your combined income is over $250,000), you will be taxed….
…If you lived in the home less than 2 years out of the last 5 years.
Basically, this will not be most Americans. Definitely, this tax is aimed at the more successful housing flippers: by a home, flip it, and sell it for profit. Clearly, this will not be welcome news.
But you could be socked pretty bad if you and your spouse make a bit over $250,000 a year, and you sell that vacation home in Michigan you hardly ever visit anymore, and it sells for way more than you bought it back in in 1988 because it is in a desirable area.
This could be bad for you. So it isn't just going to hit property flippers. And remember, it is a surtax: you will pay 3.8% above and beyond your regular sales tax.
But Czar, who is a proven non-expert at matters of taxation and accounting, this would not apply to the rental property we own and are looking to sell next Spring, would it? Yes, imaginary conversant—this tax would apply to the sale of rental property, provided you meet the above conditions.
However, the stories going around that everyone will be hit with a 15% surtax or whatever each time they sell their home? Not true. So please stop spreading those rumors, or Congress will think it is a good idea and enact it.

Божію Поспѣшествующею Милостію Мы, Дима Грозный Императоръ и Самодержецъ Всероссiйскiй, цѣсарь Московскiй. The Czar was born in the steppes of Russia in 1267, and was cheated out of total control of all Russia upon the death of Boris Mikhailovich, who replaced Alexander Yaroslav Nevsky in 1263. However, in 1283, our Czar was passed over due to a clerical error and the rule of all Russia went to his second cousin Daniil (Даниил Александрович), whom Czar still resents. As a half-hearted apology, the Czar was awarded control over Muscovy, inconveniently located 5,000 miles away just outside Chicago. He now spends his time seething about this and writing about other stuff that bothers him.