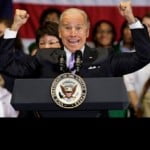 GorT figures that he'll round out the Gormogon take on the VP debate last night. We watched the debate largely as a family until Replicant #3 hit his bedtime and Replicant #2 gave up by saying, "Biden is creepy and annoying….I'm going to go read". Replicant #1 and GorT watched the full debate and Mrs. GorT arrived for the final 15 minutes.
Overall, the family felt similar to what most people are saying: Biden was rude, annoying, and his toothy smile was creepy. Ryan was calm, collected, and seemed to hold back on really delivering some punches. Points were made by both sides and, while not a landslide like the first Presidential debate, we gave the overall winner to Rep. Ryan.
First, let's take a short detour. GorT has met VP Biden once and Replicant #1 has met him twice. In the first instance, it was during his granddaughter's lacrosse game in which Replicant #3 was playing for the opposing team. He seemed pleasant enough but came across with the typical politician slimy handshakes-for-everyone-kissing-babies demeanor. The second instance for Replicant #1 was at a reception at the White House. The report back was "he's kind of weird".
So it translates very well to his persona at the debates. The odd laughing during points where Ryan was making a serious point about grave issues – weird. See below for video evidence of such.
The left will spin it that regardless of style – because, after all, Joe Biden is Joe Biden – Biden won on content. Again, maybe for brief areas (specifically, I think Ryan muddled through a response on the Afghanistan and the negative campaign soldier question – again see below for more) Biden had the upper hand. But overall, Ryan addressed the questions and gave specifics and laid out the issues intelligently. And people respond when talked to like adults – give them the facts and the truth about what we're facing. Ryan started off his respond to the Social Security and Medicare question brilliantly – Yes changes HAVE to happen. These programs are teetering on the edge. Biden, on the other hand, pulled out some of the regular stuff that we've heard from politicians in the past:
We inherited a mess. Response: So you went in blind and didn't realize this? You've been around DC for 40 years, Joe, and Obama had been around it – albeit voting "present" – for a number of years. What didn't you know? And why?
They're (the GOP) are in the way. Response: So you are going to reference the bipartisianship that you were a part of with Regan and Tip O'Neil but yet advocate for the GOP to just move out of the way and let the Democrats do their own thing? Ryan nailed Biden on this with the Obama had full party control of the government for his first two years and what did he get done? Exactly.
The rich are patriotic Americans and willing to pay more so let's grab their money and spend it. Response: Ok, while Joe Biden didn't sat those words verbatim, he did come close. This is one area where Ryan could have hit harder. Why does leveling the playing field mean that we need to engage in steeper wealth transfer (because it already exists in our progressive tax system) to level the playing field?
Ryan steered clear of playing the class and gender politics game. Biden relied on it. Calling upon the poor and middle class and pitting them against the wealthy. Demonizing the Romney/Ryan ticket with regards to women.
Chris Matthews and Rachel Maddow tried spinning the debate hard and it just didn't add up. The GorT household could only take about 15 minutes of the MSNBC post-debate coverage before our wiring was overheating with the severe alternate reality strain. Fox News did provide a pretty balanced coverage – highlighting where Ryan did poorly and Biden did well.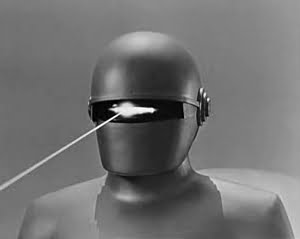 GorT is an eight-foot-tall robot from the 51ˢᵗ Century who routinely time-travels to steal expensive technology from the future and return it to the past for retroinvention. The profits from this pay all the Gormogons' bills, including subsidizing this website. Some of the products he has introduced from the future include oven mitts, the Guinness widget, Oxy-Clean, and Dr. Pepper. Due to his immense cybernetic brain, GorT is able to produce a post in 0.023 seconds and research it in even less time. Only 'Puter spends less time on research. GorT speaks entirely in zeros and ones, but occasionally throws in a ڭ to annoy the Volgi. He is a massive proponent of science, technology, and energy development, and enjoys nothing more than taking the Czar's more interesting scientific theories, going into the past, publishing them as his own, and then returning to take credit for them. He is the only Gormogon who is capable of doing math. Possessed of incredible strength, he understands the awesome responsibility that follows and only uses it to hurt people.