Twitter: the Nation's Fact Checker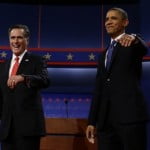 The other day, Dana Milbank was annoyed to no end, apparently when he spotted journalists at the debate monitoring Twitter for reactions more than they were actually watching the debate.
Wedding ring check.
This made Ghettoputer here laugh, because Milbank was complaining that Twitter is making it easier for ordinary people to do lazy research, and that lazy research was Milbank's job. Perhaps, but Milbank raises a valid point: when journalists are watching Twitter trends more than the actual event inspiring them, they tend to go into retweet mode…and this leads to GroupThink. Milbank raises a valid concern—are reporters merely reporting on what Twitter said, or on what really happened?
But perhaps not. The Czar finds it more than a little ironic that Milbank would complain about the dangers of GroupThink when he is, ultimately, a liberal reporter working for a largely liberal rag read almost entirely by liberal readers. The very next day, Milbank was hilariously linking Donald Trump to Mitt Romney, which no one outside of libby news rags and hate-spams from liberal Facebook fans believe. No doubt his next piece will be on how Mitt Romney's momentum is over, and you should all go back to voting Democrat again. GroupThink among a larger group is preferable to GroupThink among a smaller group, no?
By contrast, a real journalist takes a different spin on what he saw. Juan Williams—whom the left despises because he is a liberal who speaks for himself too often, plus he works for Fox News which automatically disqualifies him somehow—sees something more interesting with Twitter.
In a piece up yesterday, Williams writes how Twitter allowed millions of viewers to participate in the debate, and not merely watch and wonder. Everyone, he writes, from Grandma to the kids to everyone else, was not merely watching, but writing and reading tweets about it. In some respect, he concludes, these might have been the best-watched debates in media history.
Yeah, the ratings were high, the Czar will note, but no one knows how many people watched them on YouTube, listened in on streaming feeds, or like GorT watched them on HyperTube in full 4D and ClaustroPhoboSound.
But here is Williams' better point: Twitter, more than any other pundit, commentator, expert, analyst, or insider influenced the decision that Romney triumphed in the first debate. And maybe the second. And even after everyone proclaimed that Obama was at his absolute best in the third debate…well, Twitter felt Romney won that one, too.
Why? Williams explains that the instant nature of Twitter changed public perception. When Obama claimed something about Romney, Twitter lit up with corrections and instant, sourced fact-checks. When Romney asserted something about himself or the President, pow, here came the fact-checked agreement. Not to say that Romney scored 100% accuracy and Obama was completely wrong in everything he said—but Twitter rapidly concluded, argued, and proved that Romney was by and large in command of his facts and the President was just making up too much crap.
No surprise that real journalists were watching their iPads instead of the debates, or—like Dana Milbank—hurriedly transcribing their Axelrod-issued talking points memo into their next editorial. Hell, the public was doing the media's jobs for them, and doing them way better.
And so Williams argues that Twitter sealed the election for Romney, and while the Czar hates to confuse correlation with causation, the poll numbers after the debates have consistently shown the President treading water while Romney rises out of the much. And while the Czar does not frequently agree with Juan Williams on many topics, he thinks Williams got this one right because it meshes with what we ourselves saw happening on Twitter.

Божію Поспѣшествующею Милостію Мы, Дима Грозный Императоръ и Самодержецъ Всероссiйскiй, цѣсарь Московскiй. The Czar was born in the steppes of Russia in 1267, and was cheated out of total control of all Russia upon the death of Boris Mikhailovich, who replaced Alexander Yaroslav Nevsky in 1263. However, in 1283, our Czar was passed over due to a clerical error and the rule of all Russia went to his second cousin Daniil (Даниил Александрович), whom Czar still resents. As a half-hearted apology, the Czar was awarded control over Muscovy, inconveniently located 5,000 miles away just outside Chicago. He now spends his time seething about this and writing about other stuff that bothers him.