Trick or Treat – Castle Edition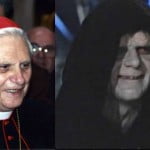 Gentle Readers,
Your Gormogons are gearing up for tonight's Halloween Party at the Castle. Dr. J. only felt it appropriate to share with you, our readers and fans, how we will be dressing for the festivities.
Dr. J. your Royal Surgeon will be dressed as His Holyness, Benedict the XVI:
GorT, ever the trendy one will be going as an Avenger:
Tony's Mark I armor fits nicely over GorT's armor plating…
Puter will be going as Uncle Fester (black and white makeup and all):
Dead ringer, eh?
The Volgi will be going as Mr. Ping from Kung Fu Panda:
Didn't see that coming, didja?
The Mandarin will be going as The Czar:
Did see that coming, didn't you?
And last, but not least, The Czar will be going as The Mandarin:
Only Max Von Sidow is closer to the mark.
Happy Halloween!