There is a Fungus Among Us!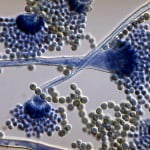 This reminds Dr. J. of a boutonniere he wore at his junior prom.
Per The Czar's request, Dr. J. is entering the fray regarding the Aspergillus meningitis outbreak of 2012.
The Czar accurately breaks down the numbers regarding the number of affected and the number of deaths compared to flu, annually. He also lampoons the general ass-hattery and nit-wittery (ass-wittery?) of the media. Dr. J. has stories to share about that, but they will have to wait to another post.
That being said, this is an outbreak.
Aspergillus meningitis is rare. Near zero-rare. It-should-never-happen rare. Dr. J. in his three years as a medical resident, and his wife, in her six years as an inpatient oncology nurse never saw a case of aspergillus meningitis. Sure, we've seen aspergillus pneumonia and fungemia (meaning in the blood stream), but never crossing the blood brain barrier. The only way one gets it is if aspergillus is directly introduced into the meningeal space, so it isn't contagious, and it isn't a danger to anyone who did not receive a contaminated injection. But it is dangerous and needs to be contained.
That is the one thing the CDC is actually good at (besides preparing us for the Zombie Apocalypse™).
Because this disease should never occur, and there were even a few cases initally observed, the institutions caring for those patients informed the CDC who jumped on it and traced the cases to contaminated injectible steroid compounded by a pharmacy in Framingham, Massachusetts.
Compounding pharmacies have to have routine inspections and have to follow rules with regard to preparing compounds. Compounding pharmacies take their jobs very seriously, and their pharmacists are professionals who are proud of their craft and that they do more than dispense pills.
Dr. J. cannot do his job without compounding pharmacists, both in the hospital and even in the outpatient setting. Dr. J.'s dad was desensitized to allopurinol which required a compounding pharmacist. Dr. J. had a plantar's wart which required a special cocktail mixed by a compounding pharmacist. He had fungal 'swimmers ear' which required a special cocktail mixed by a compounding pharmacist. He even has a compounding pharmacist make 0.2% nifedipine ointment made for 'Puter's anal fissure (don't ask, don't tell…). Furthermore Dr. J. calls on a compounding pharmacist to make super low doses of aspirin or plavix to desensitize patients to those medications.
So how could this happen?
Well the FDA and the CDC are investigating, and NECC, the company whose product is responsible appears to be cooperating. This outbreak has already put their company's reputation in the gutter, so why make it worse by doing anything other than cooperate. Also, like any health care professionals, Dr. J. suspects that they feel horrible about the situation, just out of a concern for their clients, and not from a CYA standpoint.
Dr. J. suspects that there will be some smoking gun in the manufacture process where something presumably sterile (a dilutent, vials) was contaminated, alternatively, something they use to sterilize materials was contaminated. Sterile barriers may have broken down (bad batch of gloves, or the like). The ventilation system, could very well be contaminated, and spores introduced through that. Less likely, but entirely possible, someone wasn't following a standard operating procedure (e.g. hand washing). Dr. J. believes a mistake rather than a 'malicious short-cut to save money' is at the root of this. But it will be interesting to see how it plays out.