The Czar Lost in Happy Memories Again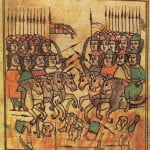 Alert and poised-for-instant-Kung Fu-action operative MS writes in:
Your most illustrious majesty:

I watched only the first 10 minutes or so of last night's debate before I was able to discern its rough course:

Dear Leader: "This nation/me (priority frequently swapped)"
Gov Romney: "It's the economy, stupid!"

Some people criticize Governor Romney for coming back to economic matters in a foreign policy debate, but here's the bottom line. Throughout history, superpower status was earned by or conferred on a nation only partly through its military might. Economic power and (sometimes) moral leadership counted as well. Witness Great Britain from the 1700s through the end of WWII.

The Soviet Union was an exception; only the military might counted and then only because of its possession of nuclear weapons. In every other respect the Soviet Union was a third-world conglomeration that was economically no match whatsoever to the U.S (I'm sure with your immenseness in charge this situation would have been different, of course!).

A strong, democratically (small "d") controlled military, a force to be feared and reckoned with, is the guarantor of a strong foreign policy and international stability which in turn greatly facilitate lucrative trade. To simplify for Democrats – a strong, intelligently-directed military and foreign policy = lower gas prices and more people at work.

You don't, as a nation, have to be a bully to make this work. You can't have a strong military or vibrant foreign policy without a strong economy to finance them with, or give moral authority to. Our military now is a pathetic shell of what it was even in Desert Shield/Desert Storm. Because of that weakness, under Dear Leader, we're reduced to deal-making and appeasement as foreign policy. With no strong military or moral authority to back them up with, treaties with foreign governments that can change at the drop of a coup, or who are controlled by a theocracy only guarantee continued turmoil and uncertainty – both very bad for business – which in turn is very bad for continued survival. You may not like it, but that's the world we're stuck with. In the final analysis, it really is "the economy, stupid."
Here we are at the Battle of Kulikovo. One of these guys is supposed to be your Czar, but come on—this artist was so crappy you can't even tell which side is which. Maybe we're one of the totally identical-looking guys on the left. Christ, it looks like a third-grader drew this on a napkin with restaurant crayons. Interesting Gormogon trivia about this battle: the Czar fought against the Horde leader Mamai, who fled the battle. Mamai ran down to the Crimea, where he was killed by some "Italian" employees of another Gormogon, Tochmas. Later, Tochmas and the Czar became pretty good pals, and he did us a solid by attacking Muscovy, Russia, in 1382 as payback for us getting screwed out of ruling. We still see each other at least once a year. Crazy world, eh?
Well, it is difficult indeed to find fault with any of these observation, since MS knows our tropes so well!
Fundamentally, yes: a successful foreign policy requires a strong economy and a strong military. MS is also aware that a strong economy requires a strong foreign policy and a strong military, and yes a strong military requires a strong economy and a strong foreign policy. Like a stool worth sitting on, you need all three legs or eventually you fall over.
MS is also correct that Romney was smart to keep tying foreign policy discussions to the economy. Look, President Obama has some really immature concepts of foreign policy, and he has made enormous mistakes, no doubt about it. But what is to be done about Syria? What more, short of a powerful hit, can be done about Iran? Romney and Obama have very similar positions on Afghanistan, Iraq, and China—only details really differ. Romney was not about to spend a good portion of the debate agreeing with the President. But if he tied it back to the economy he could leg-sweep the President time and again.
For example, both Obama and Romney agree that China is a problem but a powerful business partner. That part of the foreign policy is substantially similar. But while Obama stops there, and basically lets China do whatever she wants, Romney goes to the economy to show how China's teetering economy cannot allow a trade war—and a resurgent American economy could be a body blow to China unless they agree to some basic free market reforms. Obama had nothing that could top that answer; Romney wins on the economic angle.
And so on down the line.
Some minor points:
Kudos for noticing Obama embarrasingly quoting l'état, c'est moi as his biggest achievement. He might as well have them eat cake, no?
So closely tied are the military, foreign policy, and the economy that many students of history realize that Reagan used exactly those three in perfect combination to topple the Soviets in the 1980s. The whole Star Wars program was designed to instill so much fear into the Soviets that they spent themselves into collapse trying to react to it. And it worked.
Speaking of the Soviets, the Czar disagrees he would have done better with them. The Czar found the Soviets a bunch of bullying dorks who smelled really bad, and knew in 1917 they would need to be toppled. Frankly, Russia didn't have a great leader since Uncle Alexandr Yaroslavich Nevskii, who should have awarded Muscovy to us like he promised, rather than handing it over to our dimwit cousin Daniil who never stood up to the Mongols like he should have. Don't get us started. Come on down to the Leaping Peacock some night and we will happily tell you all about idiot Daniil, his dopey wife Vassa, our stupid second cousins Yuri, Afanasi, and why Ivan I should get down on his wobbly old knees and thank the Czar for not blowing the whistle on what he did with those teenaged blonde girls at the farm…and we'll sketch the whole thing out right on the table cloths. We also do pretty good vocal impressions of them all. And we will get into how we got screwed and wound up Czar of Muscovy, Illinois and not the whole shebang in 1289.
Soviets. Pssh. Don't get us started there, either. The Czar fought the Livonian Knights, the Mongols's Golden Horde under Nogai Khan (whom the Czar dispatched with a rock and an aeliophile), the Tatar Black Horse Band, the armies of Khan Abdulla (whom we killed by jamming a theorbo into his throat), and the Wolf Lords of Kolomna in 1288. Compared to those guys, the Soviets were like teenaged carjackers who attempted to form their own chess club.
Well, naturally, the Czar no longer has any idea where he is in this essay.

Божію Поспѣшествующею Милостію Мы, Дима Грозный Императоръ и Самодержецъ Всероссiйскiй, цѣсарь Московскiй. The Czar was born in the steppes of Russia in 1267, and was cheated out of total control of all Russia upon the death of Boris Mikhailovich, who replaced Alexander Yaroslav Nevsky in 1263. However, in 1283, our Czar was passed over due to a clerical error and the rule of all Russia went to his second cousin Daniil (Даниил Александрович), whom Czar still resents. As a half-hearted apology, the Czar was awarded control over Muscovy, inconveniently located 5,000 miles away just outside Chicago. He now spends his time seething about this and writing about other stuff that bothers him.