Opinions Are Like Joe Biden: Everybody's Got One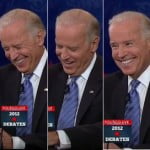 Now that the dust has settled around the debate, let us see what is worth seeing.
Biden responding to the death of Ambassador Stevens, the third straight month of economic slowdown, high unemployment numbers, Iran destroying Israel with a nuclear weapon, and seniors losing $716 billion dollars from their healthcare. Left to right. Or possibly right to left. Since he did this through most of the debate, it does not matter much.
Overall, there seems to be a consensus that "if you were going to vote for Obama, you are going to vote for Obama, thanks to Joe Biden. If you were going to vote for Romney, you are going to vote for Romney, thanks to Paul Ryan. And if you did not know for whom you would vote, you are going to vote for Romney, thanks to Joe Biden."
Vice President Biden was told to push back hard against Paul Ryan, and not let Ryan dominate the show. So Biden did that in the way he knows best: interrupt. But his chuckling, grinning, and cartoonish head bobs are evidently starting to work against him.
Most impressively, Biden appears to have managed driving a large number of women voters into thinking that they would rather see the crisp, intelligent, informed Paul Ryan a heartbeat away from the presidency, and not Uncle Frisky. Commensurate with this instant poll finding, the Czar asked the Царица what she thought, and her first comment was that Joe Biden came off as an old creep. Wow, the Czar thought, how the Democrats' image of themselves has flipped to what they once demonized about Republicans.
Anyway, real polls numbers are not in—and we expect initial television ratings to be quite high for the first 30 minutes, and then dropping off rapidly. Viewers turned off the debates to get away from the fulsome Joe Biden; and this, perhaps intentionally, may have meant to mildly help the Democrats keep the undecideds from studying Ryan's arguments. If the viewer turns them off (because Biden turned them off), then this at least holds the damage where it is.
This would, of course, be a sensationally stupid strategy. While David Axelrod views Biden as his ideal weapon against Romney, he detonated in front of millions of undecided voters. This will cement the damage in place—while Romney's polling numbers are not about to skyrocket because of last night's debate, they sure are not going to drop.
And with the Obama campaign allegedly pulling up stakes and abandoning North Carolina and Florida as lost causes, and with Virginia, Pennsylvania, and Wisconsin now flipping to Romney, one can only wonder how the decent folks of Ohio are gong to view a guy who acts like a jackass, laughs at numbers, and then looks into the camera with a too-wide grin and asks "Who are you gonna trust?"
Looking at how these critical swing states are edging into Romney camp, Axelrod may be sorry he had Biden try to play the Used Car Salesman takes on your accountant schtick.

Божію Поспѣшествующею Милостію Мы, Дима Грозный Императоръ и Самодержецъ Всероссiйскiй, цѣсарь Московскiй. The Czar was born in the steppes of Russia in 1267, and was cheated out of total control of all Russia upon the death of Boris Mikhailovich, who replaced Alexander Yaroslav Nevsky in 1263. However, in 1283, our Czar was passed over due to a clerical error and the rule of all Russia went to his second cousin Daniil (Даниил Александрович), whom Czar still resents. As a half-hearted apology, the Czar was awarded control over Muscovy, inconveniently located 5,000 miles away just outside Chicago. He now spends his time seething about this and writing about other stuff that bothers him.