Mrs. Dr. J. Explains it All…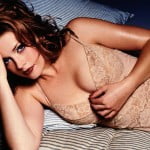 For those not getting the reference, there was this show called Clarissa Explains It All with Melissa Joan Hart…
Mrs. Dr. J. is getting geared up for the November election. She bought signs supporting the GOP state senate candidate, 5th district opponent of Jim Cooper ('So-Called Soooo Intelligent D-TN-5'), and two Romney/Ryan signs. She's also been seen around New Atlantis sporting an R-squared t-shirt, or her Romney/Ryan baseball cap.
Mrs. Dr. J.'s also signed up with the Tennessee GOP to help with election efforts. Dr. J. suspects we will be feeding the folks making phone calls, and Mrs. Dr. J. may be putting a few hours in with the campaign effort.
Why is she so passionate about this election? She explained it all the other night:
"I'm supporting Romney and Ryan because the current administration is clearly and deliberately making it harder for those who worked hard for everything they've earned to keep and enjoy the fruits of their labor."
Yeah, her carefully chosen words encompasses both those sucking at the teat of government, and the trustafarian liberal elites who are progressives in order to keep upward mobility down. Dr. J. knew a couple of those folk back at Ivy U. and they were real SOB's.