GorT was only able to watch a bit of the debate last night – soccer practices and homework help dominated the evening. However, I did see the portion of the debate when Kerry Ladka asked the question about who in the administration had denied a request for extra diplomatic security in Libya, and why. There were two missed opportunities here – one for each candidate – and both fumbled it away.
First, President Obama never answered the question. Sure, the spin will be that they are still investigating it. In fact, they probably can't get the answer until after November's election. That should be troubling when you have an administration that can't answer a relatively simple question within two months when, in fact, as the President pointed out so clearly, four Americans died. Second, the President did take responsibility…but weakly. He didn't deliver that "ultimately it is my responsibility" line with much gusto or conviction. But he did nothing to clear up the swirling reports surrounding the various reports that came from his administration regarding what happened. This will only continue to fuel the fire that (a) the administration is in damage control mode over this debacle and (b) they are amateurs when it comes to understanding a situation and communicating it effectively with the American public – specifically with regards to national security issues.
Second, Gov. Romney missed deflating Obama's "offended" remarks. Granted the moderator clearly stepped in and allowed Obama to get away with both not answering the question and not allowing Romney the chance to press the issue. Charles Krauthammer had the best summary of the fumble:
The Libya question. Obama was at sea. He was asked about the security in Libya and Benghazi, he didn't try to answer because he had no answer. Instead he went on about how we're going to catch these guys. Romney, I think had a huge opening that he missed. Obama ended by saying, you know, 'I'm offended by the implication we'd mislead.' The obvious retort was, 'Mislead? You sent out your UN ambassador to mislead America on five television shows in one morning implying it's about a video, talking about a riot. There was none. There wasn't a video in this issue in Benghazi.'
Exactly. Obama would have had to address that or have Ms. Crowley save him (which she ended up doing anyway). Romney could have continued the press with, "Mr. President, you just said you are ultimately responsible for your staff. Ambassador Rice is on your staff. She clearly did not paint that picture to the American public."
And yes, we can go to the transcript as Ms. Crowley suggests. Here is Ambassador Rice on Fox News Sunday on September 16th – five days after the attack:
"The information, the best information and the best assessment we have today is that in fact this was not a preplanned, premeditated attack. That what happened initially was that it was a spontaneous reaction to what had just transpired in Cairo as a consequence of the video. People gathered outside the embassy and then it grew very violent and those with extremist ties joined the fray and came with heavy weapons, which unfortunately are quite common in post-revolutionary Libya and that then spun out of control.
"But we don't see at this point signs this was a coordinated plan, premeditated attack. Obviously, we will wait for the results of the investigation and we don't want to jump to conclusions before then. But I do think it's important for the American people to know our best current assessment."
And here is the section of the President's Rose Garden speech that he referenced:
"No acts of terror will ever shake the resolve of this great nation, alter that character or eclipse the light of the values that we stand for. Today we mourn for more Americans who represent the very best of the United States of America. We will not waver in our commitment to see that justice is done for this terrible act. And make no mistake, justice will be done. But we also know that the lives these Americans led stand in stark contrast to those of their attackers."
Even with the sentence ending in a preposition, it is a stretch to say that he called this an "act of terror" and therefore implying that terrorists committed it.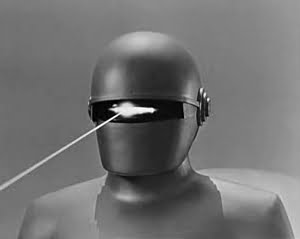 GorT is an eight-foot-tall robot from the 51ˢᵗ Century who routinely time-travels to steal expensive technology from the future and return it to the past for retroinvention. The profits from this pay all the Gormogons' bills, including subsidizing this website. Some of the products he has introduced from the future include oven mitts, the Guinness widget, Oxy-Clean, and Dr. Pepper. Due to his immense cybernetic brain, GorT is able to produce a post in 0.023 seconds and research it in even less time. Only 'Puter spends less time on research. GorT speaks entirely in zeros and ones, but occasionally throws in a ڭ to annoy the Volgi. He is a massive proponent of science, technology, and energy development, and enjoys nothing more than taking the Czar's more interesting scientific theories, going into the past, publishing them as his own, and then returning to take credit for them. He is the only Gormogon who is capable of doing math. Possessed of incredible strength, he understands the awesome responsibility that follows and only uses it to hurt people.