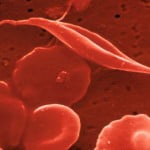 Dr. J. loved The Czar's list of #Obamafail excuses regarding the debate.
That being said, in theory, AlGore of Manbearpig fame may have been on to something regarding altitude sickness and our first African-American President.* Sickle cell anemia is an illness where individuals, typically of African heritage, have two copies of a mutation in their hemoglobin which causes the red blood cells to sickle under low oxygen conditions. This causes sludging in capillaries, pain crises and target organ damage. Now we do not know of the President has sickle trait, we are just tossing out a theory to examine AlGore's hypothesis.
Patients ultimately die of opportunistic infections by encapsulated bacteria (such as pneumococcus) because of auto-splenectomy, complications from stroke, heart or kidney failure, or tragically as complications from substance dependence as a consequence of pain management. Pain crises tend to occur more frequently in areas with low oxygen tension, such as Denver, the mile high city.
There are individuals who are carriers (have a single copy) of the sickle cell trait. These individuals do fine clinically, and indeed, are less likely to contract malaria, which is probably how this hemoglobin gene was selected for in Africa. They do, sometimes, manifest symptoms related to sickle trait. Indeed, one individual, Ryan Clark (Safety, Pittsburgh Steelers) was benched for the Steelers/Broncos game last year as the high O2 consumption associated with playing football and the thin air put him at risk of harm.
One possible treatment, still experimental, is allogeneic bone marrow transplant. It is radical, and if successful, curative, but the patient trades one set of problems for another. Dr. J. met one young man who underwent BMT and he is doing fantastic.
But Dr. J., as usual, digresses. While the literature describes case reports of splenic infarctions, there are no studies to date describing cognitive impairment as a consequence of being at high altitude with sickle trait. And President Obama certainly was not performing strenuous activity that would increase his risk of sickleing.
So, despite his best efforts, even AlGore's theory doesn't hold up, unless President Obama is a new case of confusion in the setting of hypoxia and sickle trait, assuming he has sickle trait.
* Maya Angelou may disagree.