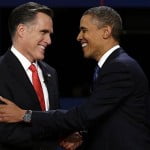 Well, even the far-left Pew Research has concluded that Mitt Romney won the debate with change to spare. Did we read correctly that undecided voters are leaning toward Romney 72-16 based on the debate? Worse news for the Obama campaign: rather than recover lost ground on the next one, Paul Ryan is debating Joe Biden on Thursday. One wonders what next Monday's polls might look like, then.
At this point, Romney has won the election. The next two weeks will see whether or not the President can win it back in time.
Certainly much ink and pixels have been spilled analyzing why Romney overpowered Obama, and what the heck was up with the president.
Perhaps it is Gestalt. You know about this: when you walk into a restaurant and see a bit of old food on a fork, you know right away the place is dirty. Or when you step into a car mechanic's bay and see piles of broken parts stacked up in the corner, you know your car won't be ready on time. Little tiny things are indicative of the whole, and tell you lots. Likewise, the whole can manifest itself in surprisingly small ways.
Here is another example: look at Democrats's explanations for what happened. None of these are original: the Czar has seen multiple references to every one of these from Democrats, not from wacky Republicans.
The President finds the debate format too stifling and artificial.
The President was exhausted from Denver's thin air.
The President was interrupted by the moderator too much.
The President had to talk too fast because Romney went over on time.
The President was exhausted from anniversary sex [no, the Czar is not making this up; no less than three Dem sources stated this, quite seriously].
The President intentionally nosedived his performance in order to appear as the underdog.
The President intentionally nosedived his performance in order to rope-a-dope Romney.
In fact, the President was awesome. Americans are just too stupid to understand the incredible level of genius he displayed.
How about this: how about saying "The President screwed up because he blew off the preparation, failed to assess Romney's potential as a threat, had no ability to roll with the punches, and picked a woeful tactic of looking like a pompous ass through the whole thing?
Once again, the President cannot admit he choked. Everything must be someone else's fault: incredibly, no one appears to be blaming George Bush, ATMs, tsunami, European austerity, George Bush, corporate jet owners, or the previous president for Obama's Bill Buckner moment. The greater inability of the President to accept responsibility for his own mistakes manifests itself in an off-putting debate performance.
Likewise, the little predicts the greater. The fact that so many folks are making increasingly outlandish excuses for the President means all this comfort and filtering insulation around Obama is exactly why he found himself facing a fast-thinking, deeply analytic, powerhouse corporate executive who specializes in problem solving, and not a senile, humorless automaton so wealthy that he cannot comprehend anything other than his offshore accounts—in other words, Obama found himself facing Mitt Romney, and not this ridiculous straw man Obama's own campaign dolts invented for him to organize the community around. More here.
Many Democrats are now realizing why their evil Republican opponents were so damned eager to get Mitt Romney—or actually any of the primary candidates—across the podium from the President. Republicans have been promising the undecided voters for about a year now that the President would indeed be wearing his new clothes for the debates: the President is a fraud who believes his own hype. And almost 70 million Americans—that may be three-quarters of all likely voters—saw the President for what he was. You know perfectly well Rick Perry would have dinged him up just as badly.
And when Paul Ryan was picked as the running mate, millions of Republicans all thought the exact same thought: wow, the debate will be a bloodbath. Perhaps not—Ryan is planning a lower key approach, and by all accounts Biden is planning to be obnoxious. But come on—Paul Ryan against Joe Biden will be like watching Ricky Jay play poker against that wino at the end of the bar who mutters into his drink and unpredictably shrieks condemnations at the neon signs on the wall. One wonders if Obama is even going to watch.
So really, the second debate will be the one that matters. We all know, and are sick of hearing, how Carter trounced Reagan in the first debate, and that Kerry smacked Bush badly in their first debate, and so on and so on. Hayes didn't do so well, either, as the Czar recalls (but no way were we voting for Tilden).
But the second debate will reveal how seriously Barack Obama wants to be re-elected, or if his goof of a presidency is over for him. If Obama does not come singing with a pitch-perfect performance and tears apart Romney, it means he is incapable of change. He learned nothing from the first one.
And we will likely see all sorts of excuses and denials by others around him; but the expectation is that the President will continue to set a low bar—really, the only one he has ever known. And more and more folks will be forced to admit it.

Божію Поспѣшествующею Милостію Мы, Дима Грозный Императоръ и Самодержецъ Всероссiйскiй, цѣсарь Московскiй. The Czar was born in the steppes of Russia in 1267, and was cheated out of total control of all Russia upon the death of Boris Mikhailovich, who replaced Alexander Yaroslav Nevsky in 1263. However, in 1283, our Czar was passed over due to a clerical error and the rule of all Russia went to his second cousin Daniil (Даниил Александрович), whom Czar still resents. As a half-hearted apology, the Czar was awarded control over Muscovy, inconveniently located 5,000 miles away just outside Chicago. He now spends his time seething about this and writing about other stuff that bothers him.