What Hath The Boomers Wrought
GorT is miffed. Peeved. Ticked off. GorT and family live in a great community that is centered around our Catholic parish. Over 70% of the kids in our parochial school walk to school each day. Sure, there are the enabling parents who allow their children to dictate the course of action for their family ("Mommy, I want an iPhone for my 12th birthday", "Daddy, I need a Facebook account now!!!", "Ma, Ma, Ma, I want to wear this strapless number to the next parish dance"). And there are the helicopter parents that crazy-go-nuts as the expression goes over whether their child gets a B for poor work (heaven forbid they get a C), or that their star athlete (not so much) isn't on the top team for the parish. But in general, the community is solid. And it is centered around our parish and its activities.
Well, over the course of the last few years, lawyers have infiltrated the Archdiocese. And, largely due to the priest sex-abuse scandal, the lawyers are making sure every nook and cranny of each and every parish is covered in triplicate by the appropriate statues and regulations. This goes double for us as we're in the People's Republic of Maryland and Montgomery County where you might need a county permit to cut your grass shorter than 4″. So this past summer, the Archdiocese of Washington (ADW) has issued updated guidelines and regulations for parishes that include an alcohol policy, a fundraising policy, a contracts policy and a facility usage policy. While I can understand the need to have some risk management elements in place, particularly for events where alcohol is present, what I wasn't prepared for was the anti-lemonade stand stance that the ADW is taking.
Consider for a minute that the families who send their child(ren) to the parish school already pay state taxes that go towards a public education from which we do not benefit (granted a personal choice). We pay a decent tuition each year to cover the cost of our child(ren)'s education at the parochial school and where it doesn't cover it, I would be confident is saying that our donations to the church who covers some of the cost, are sizable (maybe not Mitt Romney sized annual donations…but a fair amount). Now, the ADW is saying that an individual fundraiser event on parish property cannot have individuals preparing and selling food unless they possess a license to prepare and sell said food. Our parish has a number of events where it would make sense – both from a fundraising perspective and from a benefit to those attending – to have food sold. No more grilling of hot dogs and hamburgers. No more ice cream socials by the field. The lawyered-up ADW has severely impacted our ability to help defray the costs of our Catholic education and experience.
We have become a litigation-crazy state where many people's first course of action is to sue almost without regard to the personal responsibility leading up to the incident. Picture, if you will, running around on parish grounds in the late 1970s when you're 8, 9 or 10 years old and you slip or trip over a melted ice cream cone. Your parent would have likely told you to brush it off and move along. Now, it's I'll have my lawyers contact you next week…move aside while I take a picture of the scene.
While I'm not against lawyers and having some degree of protections for ourselves, we have clearly allowed our society to go to extremes over this. Where is the sanity? I lay the blame on the baby boomers who, by and large, were permissive parents. The increase in the "I deserve this" or "it's only fair" reactions is indicative of the problem. Our former principal was bold, gracious and crazy enough to host an 8th grade field trip to New York City. It was a wonderful experience for the three classes that were able to do it. He retired last year and the new principal is not interested in undertaking such a challenging task…at least not yet. One of the parents complained to another, "It's not fair, they owe us this trip." Excuse me? Owe us a trip to New York City where the principal slept in the hotel hallway to ensure no monkey business took place in the wee hours (chaperones were in many of the rooms but still….) of the morning.
GorT is in the process of authoring a letter to the ADW to point out these issues. I'll let our dear readers know what I hear, if anything, in response.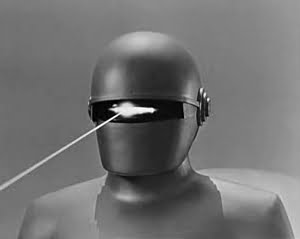 GorT is an eight-foot-tall robot from the 51ˢᵗ Century who routinely time-travels to steal expensive technology from the future and return it to the past for retroinvention. The profits from this pay all the Gormogons' bills, including subsidizing this website. Some of the products he has introduced from the future include oven mitts, the Guinness widget, Oxy-Clean, and Dr. Pepper. Due to his immense cybernetic brain, GorT is able to produce a post in 0.023 seconds and research it in even less time. Only 'Puter spends less time on research. GorT speaks entirely in zeros and ones, but occasionally throws in a ڭ to annoy the Volgi. He is a massive proponent of science, technology, and energy development, and enjoys nothing more than taking the Czar's more interesting scientific theories, going into the past, publishing them as his own, and then returning to take credit for them. He is the only Gormogon who is capable of doing math. Possessed of incredible strength, he understands the awesome responsibility that follows and only uses it to hurt people.